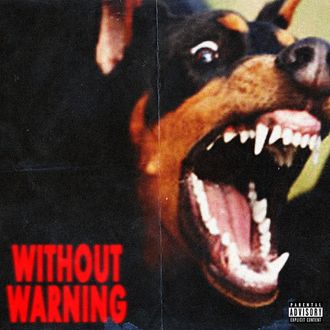 Photo: Slaughter Gang/Epic Records/Quality Control Music/Motown/Capitol Records/Boominati Worldwide/Republic Records.
Even in the most improbable year, Halloween remains a time for the unexpected. So when Without Warning, the collaboration album between 21 Savage and the Migos' Offset, dropped at midnight on the day of tricks and treats, its surprise factor was more or less in line with established tradition. Produced almost entirely by Metro Boomin, the album proved itself a stable, semi-fiery compound. The tracks never fall short of a high standard of quality, and the pairing of the no-nonsense Savage with the impeccably gaudy Offset has a persistent appeal, as the delivery of each brings the other's into sharper relief.
Given the general fractiousness between musicians, the seamless conjunction of Without Warning should be outstanding, and it is. But within its more immediate context, the harmony is less unlikely. Though not originally from the Atlanta area like Savage or the Migos, Metro Boomin is an adopted citizen of Atlanta rap in stellar standing. His shrouded, nimble sound has provided an ideal complement for the city's leading hip-hop artists, Future especially, though the two have drifted apart in recent months to work with other producers and artists. Without Warning is the third Metro Boomin–produced album in 2017, joining Perfect Timing, a combined effort with Toronto-area producer/rapper Nav, and Droptopwop, with Gucci Mane.
As with all things recent and Atlanta, Gucci's presence and example are the keys to success: Though artists had joined forces before on tapes, none did so with the generous frequency of Gucci, whose voluminous catalogue includes collaboration tapes with something like 17 different individual acts and producers, including Future (twice) and the Migos. Gucci's pioneering work in flows is matched by his foundation of an ethic of collective support between Atlanta artists. No small part of his legend is based on his willingness to share the stage with artists less famous than he is at the moment, and his investment in new talent — which he identifies with unerring accuracy — has paid off hugely for Atlanta as a whole.
Gucci has never had a No. 1 album, but without his aid, Future would have had a harder time scoring two consecutive No. 1 albums; Gucci's singles have never cracked the Top 10, but without him the Migos (and Metro Boomin) would have had a harder time reaching the chart-topping success of "Bad and Boujee." Like Genghis Khan in Central Asia or the first lifeform on Earth itself, Gucci's creative DNA is ubiquitous in Atlanta. For him, originality isn't something to be hoarded for oneself, but a gift that improves and matures as one exchanges it with others.
At this point, Gucci doesn't have to show up to be present. His spirit hovers over albums like Without Warning and Super Slimey, the dual tape from Future and Young Thug where the two former Guwop partners and protégés push each other to excel. These albums aren't contenders for best of the year, but then again they're not trying to be. The point is for the artists involved to develop together in ways that they couldn't or wouldn't on their own, and to have fun doing it.
Everyone's connected to everyone, and beefs are the exception, not the rule; moreover, the mixtape offers an ideal model to resolve any feuds that arise. It wasn't too long ago that Future and Thug were lobbing insults at one another over Twitter, but Super Slimey effectively squashed the conflict for all to see. Gucci, Future, Savage, Thugger, Migos, Metro Boomin, the producer hive of 808 Mafia: everyone's potentially directly linked, and the results speak for themselves. Though the West Coast stands out in sheer quality, the Midwest showcases its religiosity, and the East Coast leads the way in fashion, it's the Atlanta-centered South that sets the tone in American rap. It's only once you exit Atlanta's share-and-share-alike atmosphere that you recognize how abnormal it is. Successful dual albums are rare, held hostage to the egos of superstars who view them primarily as business partnerships. The rumored Kanye/Drake collaboration, like the one between Kendrick and J. Cole, is due in late Nevruary; Drake's Future/Metro collaboration What a Time to Be Alive was a cash cow and creative dead end; Watch the Throne wasn't a bad album, but nonetheless felt turgid because both Kanye and Jay-Z were too cagey to relax lest the other gain more than their fair share of status. But as far as discovering and nurturing fresh talent, you can't do better than how Atlanta does it. Lone stars are perpetually alone, but there's always space inside the constellation for new ones to emerge.