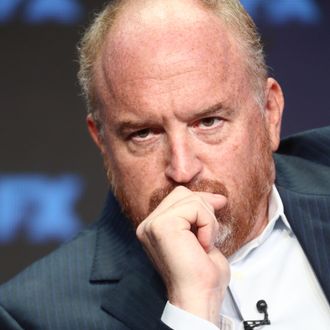 Photo: Frederick M. Brown/Getty Images
FX Networks, home to Louis C.K.'s semi-autobiographical series Louie, has responded to a story in the New York Times that reports the comedian sexually harassed five women. The network said it was "very troubled by the allegations" and that the matter was "currently under review." FX declined to comment specifically about the status of its deal with C.K. or about future seasons of his show. It's worth noting, however, that FX CEO John Landgraf has previously made it clear that he didn't think the show would ever return. You can read the full statement here:
"We are obviously very troubled by the allegations about Louis C.K. published in The New York Times today. The network has received no allegations of misconduct by Louis C.K. related to any of our 5 shows produced together over the past 8 years. FX Networks and FXP take all necessary actions to protect our employees and thoroughly investigate any allegations of misconduct within our workplace. That said, the matter is currently under review."
HBO has also announced that C.K. will no longer participate in its annual Night of Too Many Stars event, and that it will scrub the comedian's content from its streaming platforms. Before the story broke, C.K. canceled an appearance on The Late Show With Steven Colbert, and the distributor of his new movie, I Love You, Daddy, called off the planned New York City premiere that was scheduled to take place tonight, allegedly out of concern for damaging revelations. Distributor the Orchard has since said it is reevaluating the release of the film.