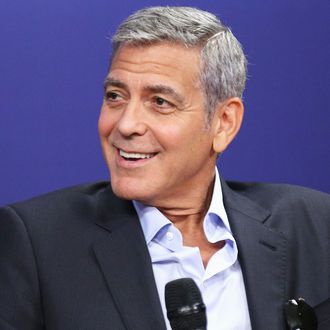 He's coming back to TV.
Photo: Rich Polk/Getty Images for IMDb
Surely no modern-day golden age of television would be complete without Clooney. Variety reports that George Clooney has signed on to direct and star in a limited series adaptation of Joseph Heller's 1961 novel Catch-22. The book, set in Italy during WWII, follows Captain John Yossarian, a U.S. Air Force bombardier caught in a catch-22 over a bureaucratic paradox that a solider can declare insanity to be released from duty, but that by making such a request to prove unwillingness to embark on dangerous missions — such missions considered insane to participate in under that military rule — would technically demonstrate sanity. Clooney hasn't been a regular face on TV since his breakout role on ER in the '90s, but he's set to star in Catch-22 as Yossarian's commander Colonel Cathcart. He'll produce with Grant Heslov, who also co-produced Clooney's Argo; Luke Davies and David Michôd will write the episodes. The show is set to film in early 2018, but there are currently no networks attached. Let the bidding war begin!