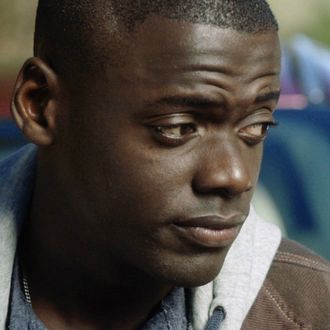 Photo: Universal Pictures
From the sunken place to first place, Jordan Peele and his directorial debut Get Out racked up the most wins at Monday night's 27th Annual IFP Gotham Awards, winning Breakthrough Director, Best Screenplay, and the night's Audience Award. However, Luca Guadagnino's Call Me by Your Name took home the evening's Best Feature prize, with star Timothée Chalamet walking away as the evening's Breakthrough Actor. Meanwhile, James Franco won Best Actor for his turn as Tommy Wiseau in The Disaster Artist. As previously reported, Mudbound also received a special Gotham Jury Award for Ensemble Performance, given to its stars Mary J. Blige, Carey Mulligan, Garrett Hedlund, Jason Clarke, Jason Mitchell, Rob Morgan, and Jonathan Banks.
Now, while there is no definitive connection between the winners of the season's first awards show and the 2018 Oscar noms (Gotham only celebrates indie films, for starters), there is plenty to suggest that tonight's wins could foreshadow success with the Academy. See the full list of Gotham winners below, and, while you're at it, cross your fingers for a Lil Rel Howery Best Supporting Actor Oscar nod, too.
Best Feature
Call Me by Your Name, Luca Guadagnino, director; Peter Spears, Luca Guadagnino, Emilie Georges, Rodrigo Teixeira, Marco Morabito, James Ivory, Howard Rosenman, producers (Sony Pictures Classics)
The Florida Project, Sean Baker, director; Sean Baker, Chris Bergoch, Kevin Chinoy, Andrew Duncan, Alex Saks, Francesca Silvestri, Shih-Ching Tsou, producers (A24)
Get Out, Jordan Peele, director; Sean McKittrick, Jason Blum, Edward H. Hamm Jr., Jordan Peele, producers (Universal Pictures)
Good Time, Josh and Benny Safdie, directors; Paris Kasidokostas-Latsis, Terry Dougas, Sebastian Bear-McClard, Oscar Boyson, producers (A24)
I, Tonya, Craig Gillespie, director; Bryan Unkeless, Steven Rogers, Margot Robbie, Tom Ackerley, producers (NEON)
Best Documentary
Ex Libris: The New York Public Library, Frederick Wiseman, director and producer (Zipporah Films)
Rat Film, Theo Anthony, director; Riel Roch-Decter, Sebastian Pardo, producers (MEMORY and Cinema Guild)
Strong Island, Yance Ford, director; Yance Ford, Joslyn Barnes, producers (Netflix)
Whose Streets?, Sabaah Folayan, Damon Davis, directors; Sabaah Folayan, Damon Davis, Jennifer MacArthur, Flannery Miller, producers (Magnolia Pictures)
The Work, Jairus McLeary, director; Alice Henty, Eon McLeary, Jairus McLeary, Miles McLeary, producers (The Orchard and First Look Media)
Bingham Ray Breakthrough Director Award
Maggie Betts for Novitiate (Sony Pictures Classics)
Greta Gerwig for Lady Bird (A24)
Kogonada for Columbus (Superlative Films/Depth of Field)
Jordan Peele for Get Out (Universal Pictures)
Joshua Z. Weinstein for Menashe (A24)
Best Screenplay
The Big Sick, Emily V. Gordon and Kumail Nanjiani (Amazon Studios)
Brad's Status, Mike White (Amazon Studios)
Call Me by Your Name, James Ivory (Sony Pictures Classics)
Columbus, Kogonada (Superlative Films/Depth of Field)
Get Out, Jordan Peele (Universal Pictures)
Lady Bird, Greta Gerwig (A24)
Best Actor
Willem Dafoe in The Florida Project (A24)
James Franco in The Disaster Artist (A24)
Daniel Kaluuya in Get Out (Universal Pictures)
Robert Pattinson in Good Time (A24)
Adam Sandler in The Meyerowitz Stories (New and Selected) (Netflix)
Harry Dean Stanton in Lucky (Magnolia Pictures)
Best Actress
Melanie Lynskey in I Don't Feel at Home in This World Anymore (Netflix)
Haley Lu Richardson in Columbus (Superlative Films/Depth of Field)
Margot Robbie in I, Tonya (NEON)
Saoirse Ronan in Lady Bird (A24)
Lois Smith in Marjorie Prime (FilmRise)
Breakthrough Actor
Mary J. Blige in Mudbound (Netflix)
Timothée Chalamet in Call Me by Your Name (Sony Pictures Classics)
Harris Dickinson in Beach Rats (NEON)
Kelvin Harrison Jr. in It Comes at Night (A24)
Brooklynn Prince in The Florida Project (A24)
Breakthrough Series — Longform
Atlanta, Donald Glover, creator; Donald Glover, Dianne McGunigle, Paul Simms, executive producers (FX Networks)
Better Things, Pamela Adlon, Louis C. K., creators; Dave Becky, M. Blair Breard, Louis C. K., Pamela Adlon, executive producers (FX Networks)
Dear White People, Justin Simien, creator; Yvette Bowser, Justin Simien, Stephanie Allain, Julia Lebedev, executive producers (Netflix)
Fleabag, Phoebe Waller-Bridge, creator; Phoebe Waller-Bridge, Harry Williams, Jack Williams, executive producers (Amazon)
Search Party, Sarah-Violet Bliss, Charles Rogers, Michael Showalter, creators; Sarah-Violet Bliss, Charles Rogers, Michael Showalter, Tony Hernandez, Lilly Burns, executive producers (TBS)
Breakthrough Series — Short Form
555, Kate Berlant, Andrew DeYoung and John Early, creators (Vimeo)
Inconceivable, Joel Ashton McCarthy, creator (YouTube)
Junior, Zoe Cassavetes, creator (Blackpills and VICE)
Let Me Die a Nun, Sarah Salovaara, creator (Vimeo)
The Strange Eyes of Dr. Myes, Nancy Andrews, creator (YouTube)
Audience Award
Get Out
Call Me by Your Name
Columbus
Ex Libris: The New York Public Library
The Florida Project
Good Time
I, Tonya
Lady Bird
Menashe
Novitiate
Rat Film
Strong Island
Whose Streets?
The Work