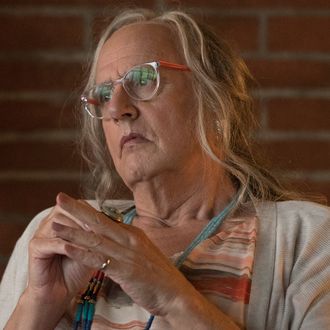 Photo: Jennifer Clasen/Amazon
After another woman came forward accusing Jeffrey Tambor of sexual misconduct, both GLAAD and Transparent writer Our Lady J have provided statements in support of the alleged victims, and — either directly or by implication — against Tambor's continued presence on the show. The claims against the actor are currently being investigated in house at Amazon Studios, where writers have already gotten to work on the show's fifth season. But, according to the The Hollywood Reporter, creator Jill Soloway has asked for "the right amount of time to creatively write Maura out of the show, possibly with a death." That sort of ending would jibe with the point of view shared by Our Lady J, who wrote:
My heart is broken. I'm struggling to put together words right now, as I'm flooded with emotions. Any abuse of power is inexcusable, but hearing the stories of Van and Trace have particularly shattered me. I honor the strength and courage that it must have taken for them to tell their truth.

…

Thank you for your leadership, Trace. Thank you for speaking up. And thank you for your proposed solution at the end of your statement. You are right — we cannot let trans content be taken down by a single cis man. I'm sure I'll have more to say, but this is as much as I can get out in this very emotional moment.

….

My heart goes out to all victims of abuse, told and untold. I hope this is the beginning of our time to heal.
The statement referenced by Our Lady J was made yesterday by Trace Lysette, a trans actress from the show who claims Tambor made inappropriate sexual advances at her. After describing the alleged incident with Tambor, Lysette said Amazon should "remove the problem and let the show go on." GLAAD also supported the actress's call for discipline, saying, "The show Transparent is bigger than one person and is home to some of the most talented trans people in Hollywood — both in front of the camera and behind. GLAAD stands with Trace in her hope that the inappropriate situations she and others endured on set will be remedied, and that future seasons will focus on more of the many brilliant characters that audiences love and care about."
Amazon has said that Lysette's accusations will be taken into consideration during its internal investigation. Jeffrey Tambor has given a statement admitting to "flaws," but maintains he is "not a predator and the idea that someone might see me in that way is more distressing than I can express."