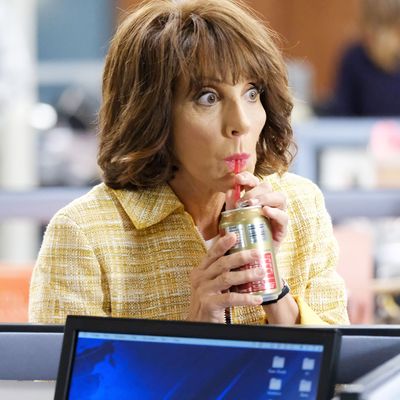 Photo: NBC/NBCU Photo Bank via Getty Images
In this era of "peak TV" it's easy for genuinely great comedies to fly under the radar. But as more and more streaming shows create tons of edgy buzz or controversy, network sitcoms can feel far more ignored than they used to be. So maybe that's why it took a friend's suggestion for me to watch NBC's Great News. I had barely even heard of it prior, but after binging all of season 1 (thanks, Hulu) in less than 24 hours, I was so grateful that he did. Avoiding any tempting dumb puns about how Great News is genuinely great, let me simply say that if you skip this show, you're cheating yourself of some serious laughs. And who doesn't need those right now?
Great News follows Katie Wendelson (Briga Heelan), a cable news producer who's dreamed of being a journalist her whole life. Too bad the show she works for has gone more in the direction of entertainment than news and her executive producer only assigns her puff pieces. Katie's too close to her overbearing mother, Carol (Andrea Martin), and quickly finds her truly too close for comfort after Carol decides to follow her own journalism dreams and gets an internship at Katie's show, The Breakdown. Having her mom in her workspace might be fine if Carol weren't as meddling, or if Katie's coworkers weren't a cauldron of constant conflict. There's on air co-anchors, Chuck Pierce (John Michael Higgins), a newsroom dinosaur averse to change always reliving his pre-anchorman glory days, and Portia Scott-Griffith (Nicole Richie), a seemingly shallow party girl until it's clear she's actually a pretty shrewd businesswoman. Imagine Kim Kardashian on a cable news show. And, of course, Greg (Adam Campbell), Katie's British executive producer to whom she's forever proving her journalistic mettle.
Within the first few episodes of its first season, it's apparent that Great News shares some DNA with 30 Rock. It possesses a similar absurdist joke style and snappy rhythm reminiscent of its predecessor's tone, and that's not surprising. GN's creator, Tracey Wigfield, wrote on 30 Rock for four years, which won her an Emmy in 2013. Several 30 Rock writers have also worked on Great News including Tina Fey, and 30 Rock music director Jeff Richmond does the show's music.
GN's first season aired last April and quickly set a confidently funny tone. There hasn't been a tremendous amount of buzz about the show, and that's a real shame. It's consistently created pointed, funny satire with worthwhile looks into the perils of the current corporate workplace, including ageism and the balance women feel pressured to strike between being the boss for the sake of representation and doing work that actually fulfills them. The show is solidly funny both in the writing and the visual gags, and the actors, of course, are fantastic. Andrea Martin does a particularly delightful nosy mom (in contrast to the self-involved psychiatrist mother she played on the sadly canceled Difficult People), and Heelan (Love) has a pluck that makes her both dorkily funny and lovable. And then there's Nicole Richie as Portia, who I was initially surprised to see on the show, but man, has she got some comic chops. The role feels tailor-made for her and is a beautifully funny sendup of her own prior party girl persona and celebrity culture in general. She delivers some of the most absurd lines on Great News, with whoppers like "Tomorrow I go undercover as an ugly person."
And the Great News writers have stepped it up for the show's second season. They've already created a parody of Taylor Swift and Katy Perry's squad wars with a music video for Portia's squad feud with Diana St. Tropez (Fey, in an early season arc as a boss beautifully similar to Jack Donaghy). It's worth it alone just to see Portia shoot a flamethrower like a boss in leather, watch Martin rap, and see Higgins do some sort of sexy music video crawl across a table.
But what's especially wonderful about GN is that it carries on the brilliant satire that 30 Rock so often brought, particularly with season 2's third episode, "Honeypot." The storyline delivers a satiric reversal of sexual harassment in the workplace (and also had the insanely uncanny timing of dropping the same week that the Harvey Weinstein story broke), all with a beautiful inversion of the usual sexual harassment script. In it, Katie slowly learns that all the men in the office are getting sexually harassed by Diana, her mentor. Both Katie and Portia, of course, are reluctant to believe it, even after multiple men come forward. They pull out all the gaslighting deflections more typically thrown at women in these scenarios, ending with Katie's amazing justification, "What were you doing in her office alone in the middle of the day, wearing that?" All of this is delivered to Gene (Brad Morris) as he sits across from her in a button-down shirt and a yarmulke.
When the gang finally confronts Diana (hey guys, sorry, but spoilers ahead!), they learn she's been sexually harassing everyone because she wants to get caught. Why? Because getting caught would mean early retirement with a huge multi-million dollar golden parachute just to go away. It's a pointed commentary that goes far beyond what we've grown accustomed to hearing about how reluctant society is to listen to women. Instead, GN goes far beyond, choosing to shine a light on the way that even when caught and proven guilty, culprits still get rewarded, making the offense almost, well, lucrative.
Simply put, if you're not watching Great News, you're denying yourself vital cultural commentary through belly laughs. Conveniently, you can catch up on all of it on Hulu. Just a hint.
Photo by Colleen Hayes/NBC.
Great News returns to NBC with a one-hour Christmas episode on December 21st at 8:00pm.
Erica Lies is a writer and comedian. You can find more of her work by Googling her, but good luck with that. Her last name is a verb.