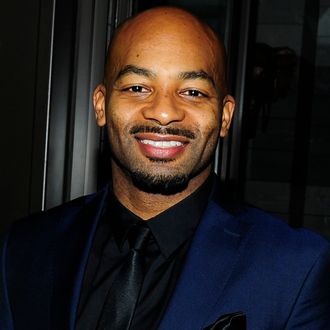 Photo: Paul Bruinooge/Patrick McMullan via Getty Images
Theater fans were stunned this week when news broke that Rent star Anthony Rapp had accused Kevin Spacey of sexual harassment. But Hamilton star, Brandon Victor Dixon, told Vulture he wasn't all that surprised to hear reports of sexual harassment coming out of Broadway.
"I am well aware of the ubiquity of not just sexual harassment but sexual predation," Dixon said Monday night at the Cinema Society party for Thor: Ragnarok. "A number of my closest friends have stories like all of these."
Dixon thinks it's necessary for accusers to share their stories. "I'm happy we are at this point in our society. This is a very positive thing where something like this happens and it can catch fire and people can start coming out of the doors and coming out of the woodwork and saying things. Five or eight years ago that might not have happened," Dixon said.
He also acknowledged the role women have played in breaking this code of silence. "You have been screaming and beating down doors," he continued. "The level of consciousness has not been at a place where we can finally look at ourselves and say, what are we doing to the greatest among us?"
Although Dixon said he was taken aback by the news of the allegations against Spacey. "The Kevin Spacey news did surprise me. Sort of. I am of the world. Also, the way he handled it, and everyone's reaction to it. It all happened very quickly," Dixon said.
He imagines the news will keep coming, and we'll continue to hear more reports of predatory behavior in the entertainment industry. "The really difficult thing is there is a lot more here," Dixon said. "The fact of the matter is Corey Feldman has been talking for years about predatory behavior that he and his best friend experienced, and that he and other children in this business experienced. And that is another level that we just haven't gotten to."