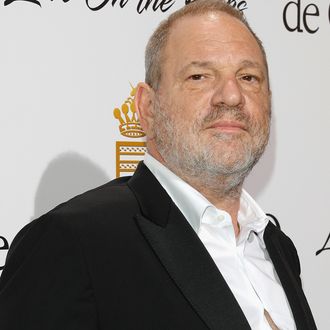 Photo: Andreas Rentz/Getty Images
Investigations into the many alleged sexual assaults by Harvey Weinstein are now underway all over the world, with the NYPD, the LAPD, the Beverly Hills Police, and UK law enforcement all looking into possible acts of rape, harassment, and other forms of misconduct. Now Deadline is reporting that the former producer and his namesake company are facing claims of sex trafficking.
In a complaint filed at the U.S. District Court in the Southern District of New York, legal council for actress Kadian Noble is alleging that "Harvey Weinstein was able to force or coerce Kadian into sexual activity in his hotel room because of his promise to her of a film role and use of his influence on her behalf," despite having no intention of following through on those promises. The claim continues: "Harvey Weinstein traveled in foreign commerce, knowingly recruiting or enticing Kadian offering her something of value, knowing that he would use this offer as a means to defraud, force, or coerce her into a sexual encounter." Council further argues that Weinstein acted with the participation of the Weinstein Company, stating: "TWC knowingly participated in Harvey Weinstein's venture in violation of 18 U.S.C. §1591 (the sex trafficking statute) by benefiting from, and knowingly facilitating, the venture in which Harvey Weinstein traveled in foreign commerce to recruit or entice female actors into forced or coerced sexual encounters on the promise of roles in films or entertainment projects."
Bob Weinstein is also included in the complaint for his alleged role in facilitating "commercial sex acts in foreign commerce" for his brother, and there is also the use of the term "FOH" — which, according to the document, is the term used by Weinstein Company staffers to refer to women Harvey Weinstein had sexual encounters with in exchange for professional advancement.
Noble's lawyer on the case is Jeff Herman, who is also representing Dominique Hewitt, an actress waging a $5 million civil suit against TWC in Los Angeles for Weinstein's alleged misconduct when he was co-chairman of its board — misconduct that Hewitt claims the company was well aware of.