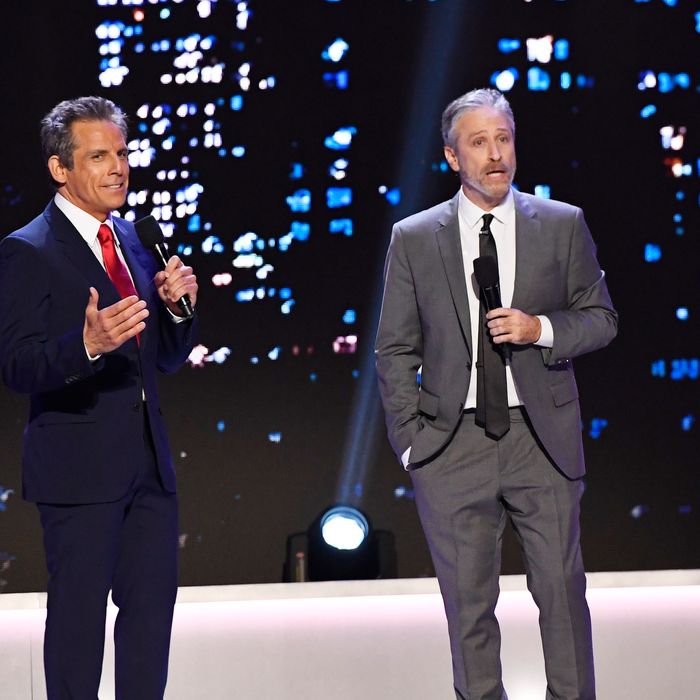 Ben Stiller and Jon Stewart during the Night of Too Many Stars.
At the end of Saturday's Night of Too Many Stars benefit show, Jon Stewart summed up this year's star-studded event as "funny, touching, chaotic. Like life." He's not wrong. This time, the "bi-occasional" comedy night that raises money for autism education programs was broadcast live on HBO from the Theater at Madison Square Garden, bringing the excitement and the risks of live TV along with it.
Last held in 2015 on Comedy Central, the Night of Too Many Stars auctions off celebrity stunts and takes donations to benefit nonprofits like NEXT for Autism. In true 2017 fashion, even a charity show has been affected by a high-profile scandal, with Louis C.K. being kicked off the bill of big names, which included Chris Rock, Sarah Silverman, Robert De Niro, and J.J. Abrams, just a week before the show, due to sexual harassment allegations. C.K. remained the elephant in the room, with no mentions of him on the show or in the program. Similar recent scandals, Trump, and politics in general were also noticeably absent from the comedians' bits.
More noticeably, the night was full of current and former Daily Show personalities, like John Oliver, Stephen Colbert, Rob Corddry, Jordan Klepper, Samantha Bee, Hasan Minhaj, Michelle Wolf,  and Olivia Munn (yeah, remember that year?). Munn brought an extra unintentionally funny layer to the show as she was plagued with technical difficulties during her offstage interstitials throughout the night. As usual, the best moments came when celebrities popped up unexpectedly (Michael J. Fox sub-tweeting from the audience) or otherwise crashed the party (Jon Stewart interrupting Billy Joel mid-song at MSG), and planned surprises kept the night moving in between sensitive portrayals of autistic children's lives.
HIGH: Samantha Bee breaking up Jon Stewart, John Oliver, and Stephen Colbert's fight.
The first big bit of the night came when the three newsmen of comedy — Oliver, Stewart, and Colbert — united onstage to roast each other. "This is going very badly, and you're at the helm," Oliver said to Stewart, while Colbert referred to Oliver as "Harry Potter and the half-hour lecture." Just as Stewart was telling his protégés, "I didn't raise either of you to act this way," Samantha Bee cut in via video message and shut it all down with a "moment of Zen."
HIGH: Chris Rock reads people's minds.
Even though the bit was fraught with teleprompter mixups, Chris Rock joining Stewart onstage to read audience members' minds went over well. During a preshow auction, ten people bid thousands of dollars to have Rock basically insult them. While there were prewritten jokes in the prompter tailored to each person, it sort of devolved into Rock asking questions like, "Are you Donna or Linda?" and exclaiming, "I already did that joke!" The best part happened when the camera cut to Al Roker and Rock noticed his "stunt double" sitting beside him. Because if anyone needs a stunt double, it's Al Roker.
LOW: Ben Stiller as the Tiki Torch CEO.
In the first political piece of the night, Ben Stiller donned some bronzer and a red tie to play "Oren Tiki," CEO of the company that makes those tiki torches that used to be fun for barbecues and are now synonymous with white nationalism. While it was fun to see Stiller doing a character bit, it felt more like something you'd see on late night the week after the actual event in August, not during a more lighthearted benefit show that's also made up of 90 percent white people.
HIGH: Olivia Munn's technical difficulties.
Kudos to Olivia Munn for rolling with the punches. Her job was to periodically appear via remote camera offstage to plug the charity sweepstakes being held online, which she did, as well as drink a bottle of ranch dressing. But the funniest moments were out of her control as she was met with an empty teleprompter and couldn't tell when she was on or off camera. "Every time I have no idea what's going on, HBO will donate $100,000," she ad-libbed on live TV.
LOW: Howie Mandel's golden buzzer.
It started out as a slightly cheesy America's Got Talent joke, where Stewart repeatedly activated Mandel's golden confetti cannon at the top of the show. Later, it turned out to be a huge distraction for guest Carly Fleischmann, a nonverbal woman who communicates via computer, when she came onstage to interview Stephen Colbert. The stage floor was littered with the shiny debris, and as Colbert later pointed out, her OCD made her unable to continue. Stewart immediately took the blame for the confetti idea ("Who's stupid f**king idea was that? It was me!") and pointed out that what Carly experienced is just one of the struggles people with autism experience in their everyday lives. Later, Colbert assured her that the interview would happen another time, so maybe we'll see her on The Late Show.
HIGH: Jon Stewart crashes Billy Joel's MSG concert.
As part of the preshow auction, two women both bid $40,000 to spend "a night out" with Jon Stewart. While the "night out" was condensed into a two-minute sprint backstage, the two women did get to visit a hot dog cart, walk a Citi Bike, and meet Pizza Rat. Oh, yeah, and Stewart led them through the tunnels of MSG to find Billy Joel onstage playing "Just the Way You Are." The three of them went onstage, interrupting the concert for a confused but thrilling minute. It was a great way to take advantage of their proximity to MSG, and I'm guessing the Venn diagram of Billy Joel fans who like Jon Stewart is almost a full circle.
HIGH: Jodi DiPiazza's performance.
In what had to be the most emotional moment in Night of Too Many Stars history, Jodi DiPiazza wowed everyone in 2012 when she sang a duet with Katy Perry to "Firework," then returned in 2015 to sing "Yoda" with Weird Al. Saturday night, she showed how much she and her singing talent have grown since then when she performed Andra Day's "Rise Up" with Cynthia Erivo and the Action Play Chorus. It was touching, and reminds you why this event can be so memorable.
HIGH: J.J. Abrams, Rob Corddry, and Gilbert Gottfried auction off spoilers.
In one of the few actually live auctions of the night, J.J. Abrams offered to share a spoiler from the next Star Wars movie to the highest bidder. To sweeten the deal, Rob Corddry said he'd reveal the plot to Hot Tub Time Machine 3, which is not currently a film, and Gilbert Gottfried said he'd reveal what happens in Sharknado 5, which came out earlier this year and no one remembers. The winner turned out to be a young redheaded man with an extra $10,000 lying around who told Stewart his name was "Carlos Danger," which rightfully got a huge groan. Was it worth $10K to have Abrams and Corddry whisper in your ears on live TV? That depends. Can anybody read lips?
LOW: Adam Sandler's song about falling in love.
Adam Sandler sang a song about falling in love and it wasn't "I Wanna Grow Old With You." That's really all you need to know.
HIGH: Stand-up sets from John Mulaney, Hasan Minhaj, and Michelle Wolf.
The stand-up portions of the evening were all solid (possibly because they don't rely on teleprompters), with Mulaney, Minhaj, and Wolf all performing tight five-minute sets. Mulaney got self-deprecating right away, Minhaj was his usual charming self, and Wolf stayed edgy with the only overt Trump jokes of the night and a bit that calls out guys who offer to walk a girl home for "safety." Plus, her closer was a vagina joke. 10/10.
HIGH: On-Set Video Messages From Sarah Silverman, Kumail Nanjiani, and Paul Rudd.
While it was too bad that some of the biggest stars had to phone their appearances in, we did get a funny message from Sarah Silverman on the set of I Love You America, where she clearly ADR'd her support for autism education over an existing hurricane message. Similarly, Paul Rudd answered fan questions (or, question) on the set of the next Ant Man movie, and Kumail Nanjiani bragged about his big year with The Big Sick from the set of Silicon Valley. Also appearing via prerecorded video were an "Anonymous" Bob Newhart, Jon Lovitz, Andy Samberg, and Steve Carell competing in a hands-on-hard-body contest.
HIGH: Lin-Manuel Miranda's personalized voice-mail for Jon Stewart.
There was one prerecorded celebrity message that outshone them all: Hamilton's Lin-Manuel Miranda rapping a personalized voice-mail for Stewart that just happens to totally roast him for quitting The Daily Show before Trump took office. If explicitly saying, "He f**ing blew it" wasn't enough, he went on: "Retired before Trump / the era of fake news / now he begs Colbert to get on the air and share his views." Stewart, ya burnt.
RANDOM MENTIONS:
• Edie Falco telling her son at home to "go the f**k to bed" on live TV.
• Jordan Klepper somehow makes a more terrifying Pennywise than the actual clown from It, but maybe that's because he was standing next to sweet Ellie Kemper.
• You haven't seen sponsored content until you've witnessed a woman sitting in the Iron Throne being served White Castle burgers by a White [Castle] Walker holding a Crave Case.
• I don't know which part was funnier: Robert De Niro's attempt to do the "wave" in his seat, or the fact that he clearly left the show the minute his bit was complete.
• Will Forte is way too convincing as a "Former Real Sex star" and should probably keep his Last Man on Earth beard forever.