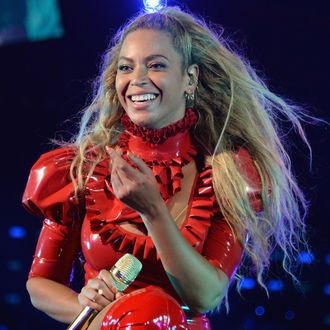 Beyoncé has blessed us.
Photo: Kevin Mazur/WireImage
Beyoncé and Eminem have joined forces for the rapper's first single from his upcoming album, possibly called Revival. "Walk on Water" is a confessional, often a capella–style rap ballad from Eminem that sees him speak candidly about the insecurities that come with being an aging rapper. (And person, really.) But we're all here for the star of the show: Beyoncé. She sings the song's chorus, but it's really a hymn. "I walk on water, but I ain't no Jesus," she claims, sounding like a one-woman choir. Beyoncé can't walk on water because she doesn't need to. She floats.