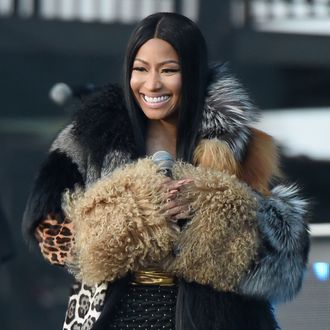 She's up to something.
Photo: Nicholas Hunt/Getty Images
After a few hiccups along the way to its release, Nicki Minaj has shared her remix to the best song off of Lil Uzi Vert's new album, "The Way It Goes." It's a song about a breakup, but save for Minaj's outro taunting an ex, her time is used for a PSA: "Been the queen for eight summers." Her following verses read like a résumé, name-checking her years of experience dating back to when she was a teen, as well as her breakthrough mixtape Beam Me Up Scotty, lest anyone dare forget how long she's been in the game. Minaj also has another new moniker: Nicki Yamaguchi, "cause I skate with the ice." This is Nicki's second new verse in as many weeks after her show-stopping turn on Migos's new song. If her history of resurfacing with guest bars tells us anything, an album could be imminent.