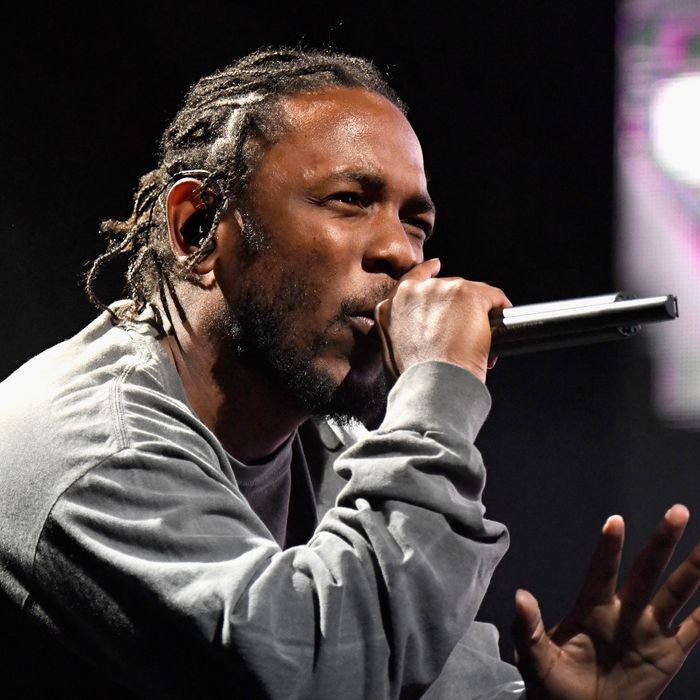 Photo: Frazer Harrison/Getty Images for FYF
By now, Kendrick Lamar is no stranger to the Grammys. Between guest appearances on others' songs and his debut album Good Kid, M.A.A.D City, Kendrick netted seven nominations at the 2014 Awards, though he somehow won none. Good Kid lost out on Album of the Year to Daft Punk; even more egregiously, it failed to win Best Rap Album, an award that, by overwhelming critical and fan consensus, it richly deserved. That golden gramophone was given instead to Macklemore and Ryan Lewis's The Heist, and the ensuing outcry was such that Macklemore himself publicly acknowledged that Kendrick was robbed by him; subsequent years would witness further atonement from the white Seattle rapper as he refrained from making decent albums.
Meanwhile the Academy would make partial amends for its blatant miscalculation in its own way. The 2015 awards saw Kendrick's single "i" nominated for Best Rap Song and Best Rap Performance, and he would go on to win both. In 2016 Kendrick's second album, To Pimp a Butterfly once again garnered nominations for Best Album and Best Rap Album, and though it lost out to Taylor Swift's 1989 for the former category, Kendrick triumphed in the latter, taking home a total of five Grammys off of 11 nominations.
He had always been at the forefront of rap, but now he was being properly recognized for it. There was only one issue left. If hip-hop is, as streaming numbers confirm, the leading edge of popular music today, then Kendrick is the foremost artist in more than just his own genre. If quality were the sole criterion determining who receives the Best Album Grammy, he would already have two of them. But he still has none. Will the third time be the charm? Now that Kendrick's DAMN has, like Good Kid and Butterfly before it, been nominated for Best Album, the burning question at the 2018 Grammys will be whether Kendrick's excellence will — finally — be fully recognized.
It's clear (to us, at least) that there's no better album than DAMN among the five nominees. Bruno Mars's 24K Magic is decent, correct, neo-classical pop R&B. Likewise, Childish Gambino's Awaken, My Love! ably mimics the greats of past decades but does little more. Jay-Z's 4:44 is worthy, wry, and forward-thinking, but it's clearly a lion-in-winter project, the work of an artist sharp enough to know he's not as sharp as he used to be and mature enough to make the most of what he has left. It's hard to imagine it competing with DAMN, a collection mixing youthful defiance and precocious solemnity in equal parts.
The only real competition Kendrick has, then, is Lorde's Melodrama, which possesses similar virtues to DAMN (Lorde, too, excels at precocious solemnity) while having a distinctly different profile in fields other than quality. Sales-wise Melodrama, somewhat amazingly, has yet to even go gold; DAMN went platinum on its release date and is currently certified as double platinum. Numbers aren't always a decisive criterion for the Academy. Daft Punk's Random Access Memories beat out not just Good Kid, but Taylor Swift's Red, an album which sold four times as many copies; then again, one reason 1989 could have conceivably beat out Butterfly (another being compensation for Red losing) is on the grounds of higher sales. If two Album of the
Year nominees are equally timely and of comparable quality, then it's plausible that sales could serve as the tie-breaker, thus giving Kendrick the only meaningful official accolade he's yet to receive.
However, there's one final factor. Historically speaking, the Academy seems to have a bias toward artists of a paler complexion. Putting Kendrick's own unmerited losses aside and citing only recent awards, we see that Adele's 25 was crowned over Beyoncé's Lemonade; two years before that, Beck's Morning Phase beat out Beyoncé's self-titled album; two years before that, Mumford and Sons' Babel was deemed a champion over Frank Ocean's Channel Orange. Increasing recognition of this bias led to a hashtag campaign last year under #GrammysSoWhite, and it's not hard to believe that such agitation has had an effect on this year's nominations. Four contenders for Album of the Year are non-white, as are three and a half (Logic) for Song of the Year; not a single one of the five nominees for Record of the Year is white; three potential Best New Artist winners are black. There's never been a more auspicious time for Kendrick to be paid in full, but by the same token it's entirely possible that the Academy believes that the nominations, by themselves, suffice for social responsibility and give Lorde the Grammy. It would be a shame if DAMN, superior in sales, and at the very least equal in quality to Melodrama, fell short of the ultimate Grammy, but it wouldn't be a surprise. The only time to be certain of DAMN's victory is after it's already happened.