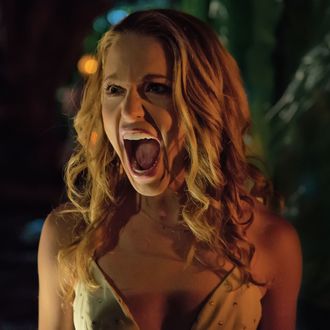 Photo: Patti Perret/Universal Studios.
As Justice League underwhelmed this past weekend with just $93 million in its domestic opening, the low-budget horror film Happy Death Day continued to overperform by crossing the $100 million mark at the global box office. Yes, it took the latest offering from Blumhouse and Universal six weeks to achieve what the DC powerhouse did in a single weekend, but if you look at the percentages, Justice League stands no chance of catching up to Death Day when it comes to profits. This has been a theme all year in theaters, with horror films screaming past their ultrabudget competition in the earnings department. Blumhouse alone accounts for three of the year's biggest box-office returners with Get Out, Split, and now Happy Death Day. Each of those movies was made for less than $10 million (and in the case of Get Out and Death Day, less than $5 million) and ended up passing into the nine-digit category of theater grosses. Then there's It, which turned a $35 million production investment into a superhero-level box-office performance of $688 million worldwide.
One of the year's biggest industry stories has been the dismal state of the box office this summer. Variety dubbed it "officially worst in over a decade," and the Los Angeles Times went one bigger, saying it was "the worst-attended summer movie season in 25 years." This left studios looking toward the fall season for a bailout. Horror fans are a reliable theater audience and have turned out consistently in each phase of the year to make scary movies the best bets for studios in 2017. While Get Out's $254 million may look quaint next to something like the $863 million pulled in by Guardians of the Galaxy Vol. 2, the former exceeds the latter in terms of percentage increase over budget. Since Guardians 2 cost $200 million in production alone, the increase over the budget comes out to a respectable 331 percent. Get Out, on the other hand, cost $4.5 million to make, and it earned that number back by 5,544 percent. So when you're wondering which movies put more money back into the coffers for future investment, horror is trampling the competition. Even Wonder Woman, which is the super-feel-good movie of 2017, "only" made a 450 percent gain, whereas It made a 1,865 percent return; Happy Death Day hit 1,983 percent, and Split reached a dizzying 2,988 percent. The Last Jedi is the year's final gargantuan blockbuster, but with brain-melting production costs, hitting the billion-dollar benchmark won't make it as profitable as Blumhouse's big three in 2017.