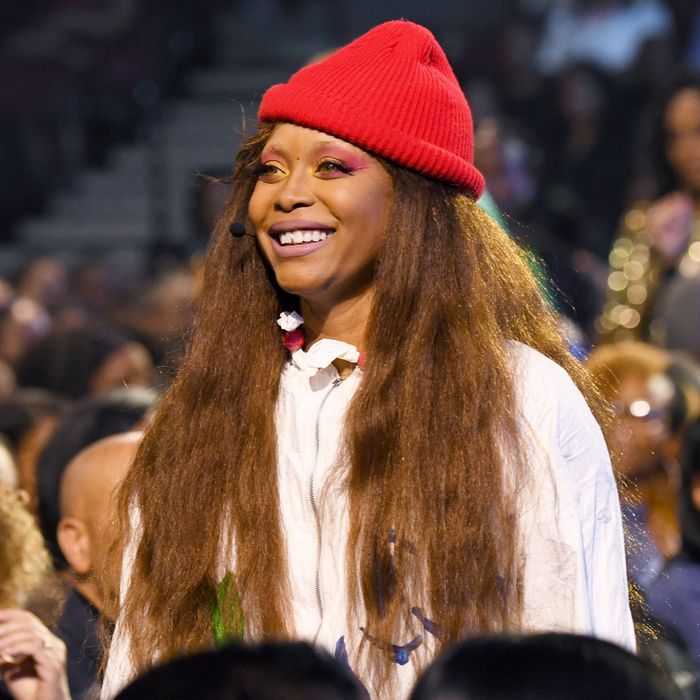 Erykah Badu at the Soul Train Awards.
Photo: Paras Griffin/Getty Images for BET
For 30 years, the Soul Train Music Awards have been one of hip-hop and R&B's premiere events, and a remarkably consistent generator of awesome TV moments. (See: Prince's rousing Artist of the Decade acceptance speech in 2000.) This year, Erykah Badu returns to host for the third ceremony in a row, and ahead of this week's telecast, she explained that, for her, hosting isn't just a fun, high-profile gig, it's an opportunity to embrace her musical heritage. "Being a part of the show is magical," says Badu. "Growing up, we never missed Soul Train. That was one of the only times we got to see the artists we loved outside of their album covers. It was like, 'Okay, here's the Isley Brothers; here's Funkadelic.' Soul Train was all we had. To now help make the kinds of memories that I had for the people watching today is inspiring."
Still, the job does allow for a little well intentioned side-eye. "The best joke I ever told hosting Soul Train," says Badu, "well, it was at somebody else's expense." She thinks back to 2015, her first year as host. "There's this urban legend that I change rappers," she says. "So I said that since people want me to leave our rappers alone, there would be absolutely no rap on that year's show — no one with Lil or Young in their name; no one with more than two tattoos per arm. So after I said that, I took a call: It was Andre 3000. 'No, you can't come.' Then it was Young Thug: 'No, you can't come either.' Then it was Iggy Azalea: 'Oh, you can come, because what you're doing is definitely not rap.'" Badu laughs. "It was mean, but it was effective. And I got to talk to Iggy later. She was okay with it … after a while."
Jokes aside, Badu sees hosting the awards as a chance to display skills she rarely gets to showcase. "The preparation is so exciting for me: I'm hosting the show. I'm writing the show. I'm producing on the show. I'm choosing my own writing team. It's unreal. I come from a theater background, so I've trained in all the things that go into putting on a show like the Soul Train Awards, but I don't get the opportunity to then go ahead and use them. Now I'm finally getting a chance do that, and in a big way. It's a dream."
The 2017 Soul Train Awards air November 26 on BET.