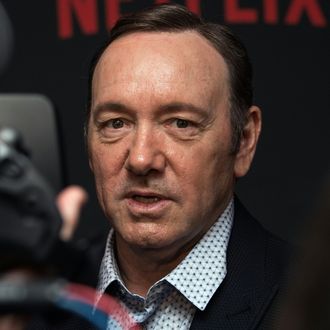 Kevin Spacey.
Photo: NICHOLAS KAMM/AFP/Getty Images
Earlier this week, Netflix indefinitely suspended production of the sixth and final season of House of Cards. Now, CNN has a report in which eight people corroborate accusations of sexual misconduct by Kevin Spacey on the set of the show. None of the people, who have worked on Cards in the past or at present, provided their names for fear of retaliation, but one former production assistant says Spacey assaulted him during an early season of the show. That PA describes the actor's behavior as a "predatory," and said the assault he suffered took place after he was tasked with driving Spacey to the set in Baltimore. While in the driver's seat, the show's star and executive producer allegedly put his hand down the assistant's pants without permission. "I was in a state of shock," he told CNN. "He was a man in a very powerful position on the show and I was someone very low on the totem pole and on the food chain there." In a very chilling bit, the article then says, "The production assistant asked that what happened next in the car not be described, for fear that it would identify him."
Based on the accounts provided to CNN, Spacey has demonstrated a pattern of harassment and assault on the HoC set that "included nonconsensual touching and crude comments and targeted production staffers who were typically young and male." This new account joins the accusations of misconduct made by actor Anthony Rapp, who said Spacey tried to incite a sexual interaction with him when he was just 14 (Spacey was in his mid-20s at the time), and a Vulture report from today in which an anonymous male accuser said the actor struck up a physical relationship with him when he, too, was just 14. That "relationship" ended with what the man classifies as an attempted rape.
Also this week, filmmaker Tony Montana claimed that Spacey groped him without consent in 2003, and actor Roberto Cavazos, who performed at London's Old Vic where Spacey served as artistic director from 2004 to 2015, said it was standard practice for Spacey to prey on the young actors in the theater. "It seems the only requirement was to be a male under the age of 30 for Mr. Spacey to feel free to touch us," said Cavazos. "It was so common that it even became a local joke (in very bad taste)." A spokesperson for Spacey told Variety that he is now "taking the time necessary to seek evaluation and treatment. No other information is available at this time."
Update: Media Rights Capital and Netflix, which together produce House of Cards, have each released statements regarding accusations of harassment and assault during production of the show.
Netflix:
When the allegations broke about Kevin Spacey on Sunday night, in conjunction with MRC, we sent a representative to set on Monday morning. Netflix was just made aware of one incident, five years ago, that we were informed was resolved swiftly. On Tuesday, in collaboration with MRC, we suspended production, knowing that Kevin Spacey wasn't scheduled to work until Wednesday. Netflix is not aware of any other incidents involving Kevin Spacey on-set. We continue to collaborate with MRC and other production partners to maintain a safe and respectful working environment. We will continue to work with MRC during this hiatus time to evaluate our path forward as it relates to the production, and have nothing further to share at this time.
Media Rights Capital:
We are deeply troubled to learn about these new allegations that are being made to the press concerning Kevin Spacey's interaction with members of the crew of House of Cards. As the producer of the show, creating and maintaining a safe working environment for our cast and crew has always been our top priority. We have consistently reinforced the importance of employees reporting any incident without fear of retaliation and we have investigated and taken appropriate actions following any complaints. For example, during our first year of production in 2012, someone on the crew shared a complaint about a specific remark and gesture made by Kevin Spacey. Immediate action was taken following our review of the situation and we are confident the issue was resolved promptly to the satisfaction of all involved. Mr. Spacey willingly participated in a training process and since that time MRC has not been made aware of any other complaints involving Mr. Spacey.




In response to the current situation, on Tuesday of this week, MRC installed an anonymous complaint hotline, crisis counselors, and sexual harassment legal advisors for the crew. MRC will continue to thoroughly investigate all current claims and any new claims that are formally brought to our attention, and will continue to monitor our own production and practices to ensure that our cast and crew feel safe and supported.