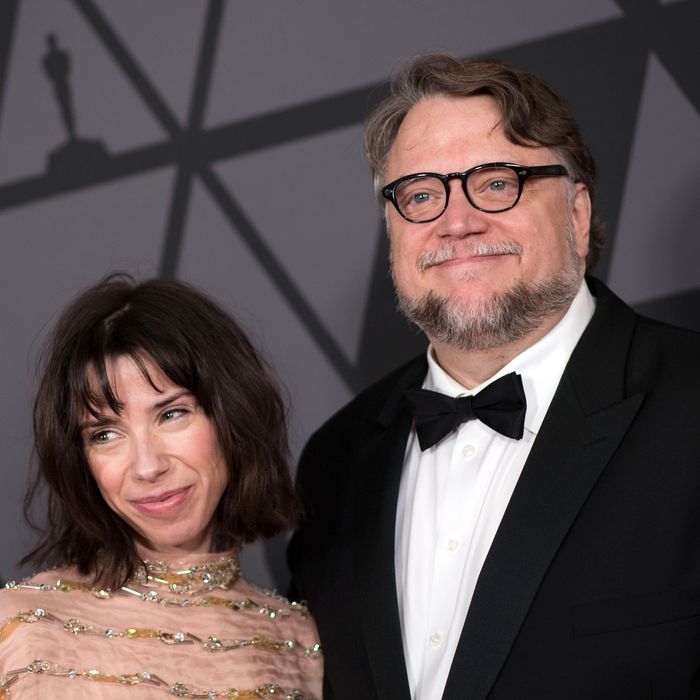 Sally Hawkins and Guillermo del Toro.
Photo: Valerie Macon/AFP/Getty Images
Guillermo del Toro wrote the starring role in his phantasmagorical espionage-drama/fantasy-romance The Shape of Water with Sally Hawkins in mind. But, as the filmmaker revealed during his recent Vulture Fest panel, he hadn't planned to give the five-foot-two British actress a drunken bear hug the first time he met her at a Golden Globes party in 2013 — or to blurt out his fanboy-ish adoration after knocking back more than a dozen shots of tequila.
In fact, the Mexican writer-director behind such films as Pan's Labyrinth and Hellboy never intended to leave the house, let alone encounter his leading lady. Which is what makes the chain of events leading up to their initial meeting all the more weird and wonderful.
An admirer of Hawkins's breakthrough performance in 2008's Happy-Go-Lucky (for which the actress won a Golden Globe) and her turn in the acclaimed 2005 BBC mini-series Fingersmith (she portrays an orphan lesbian pickpocket in Victorian England), del Toro began envisioning her as his Shape of Water protagonist — a mute cleaning lady at a secret governmental research facility who enters into an interspecies romance with a mysterious, Creature From the Black Lagoon–ish amphibian-humanoid (Doug Jones) — back in 2014. With the project set up at Fox Searchlight, del Toro sent Hawkins's agent word that he was "writing a movie for her."
Settling in for a quiet evening at home in Thousand Oaks, California, on that Golden Globes night, however, the director received a phone call from his old filmmaking friend Alfonso Cuarón. He was at a party thrown by Hollywood's powerhouse Creative Artists Agency, celebrating his Best Director Golden Globe win for the sci-fi drama Gravity with their fellow Mexican moviemaker buddy Alejandro González Iñárritu (Birdman). The trio — known around Hollywood as the Three Amigos — came up together in the Mexican film industry, shattering cultural and language barriers with their movies, before becoming Mexico's most acclaimed auteurs.
"I was watching Antiques Roadshow in my house," del Toro remembers. "They said, 'Dude come over to the Golden Globes party.' I said, 'I'm not going!'"
"Look, we're gonna get drunk," he recalls Cuarón and Iñárritu saying.
Del Toro: "I don't drink!"
Cuarón and Iñárritu: "Yeah, yeah, we know. But all of us are going to get together and we can really have a celebratory drink."
"If I'm going to drink, I don't want to drive," del Toro remembers telling his friends. "They say, 'We'll send you a car.' Okay, okay. They transport me all the way from where I live which is 45, 50 minutes from L.A. I arrive. And because I'm fat, my body mass requires enormous amounts of alcohol to even get buzzed. I get sober super fast and I don't get hangovers. So I arrive and I say, 'We're gonna drink. Yes!' And I drank 14 shots of tequila really quick."
But that celebratory drink among amigos was not destined to be. "I get a little buzzed. And I go, 'Okay guys, catch up.' And they say, 'We changed our mind. We're not going to drink,'" the director says, clearly nonplussed at the memory.
Heading for the exit but still giddy from the tequila, he spotted Hawkins. Cut to a movie-worthy meet-cute: "It's the first time I see her. I say, 'Sally — Guillermo.' I hugged her. And I said, 'I'm writing a movie for you where you fall in love with a fish-man!'"
"She says, 'Great!' And that was our first meeting."
The actress is a revelation in the role, radiating sensuality, self-doubt, steely determination — sometimes within the span of a single scene. And the overwhelming majority of her performance is delivered without uttering a single word; no small feat considering her fish-man love interest isn't talking in the movie either.
"Words lie. Looks don't," Del Toro points out. "Most people think an actor delivers great lines. An actor listens. An actor looks. Sally does all those things. And I wanted their love to not be through talking."