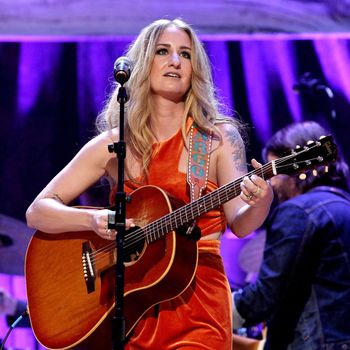 Margo Price
Photo: Terry Wyatt/Getty Images for Americana Music
In March of 2009, when Jack White, Ben Swank, and Ben Blackwell opened Third Man Records' headquarters in Nashville, they didn't have grand ambitions to invade the city's already-bustling music scene. Their plan was to absorb Tennessee's rich music history while they began to press and distribute White's and his colleagues' records.
Third Man had existed on paper since 2001, but for the first eight years they didn't have a home base, and White had been focusing on his own music. In 2008, though, the White Stripes went on hiatus (they ended up breaking up officially in 2011), and White gained back the rights to his earlier recordings. "Licensing was starting to revert back to him at that time and we kind of thought, Oh well, we can actually do the label and start reissuing some stuff," Swank says. By the end of that year, White, Swank, and Blackwell had decided to start the label in earnest.
Nashville, White's home since moving from Detroit in 2005, seemed like a good place to start. It was a manageable size and had all the resources the label needed, including United Record Pressing — one of the largest vinyl manufacturers in the country. And White, after 30-plus years in the Detroit, wanted to distance himself from Midwest for a while. "I got really burned in Detroit, being heavily involved in the scene up there," he told the Nashville Scene in 2011. "I've always felt like my soul came from some other place. And maybe it is from down South," he told the Tennessean in 2014. "If you love music, you keep digging deeper, and you're going to get down to the South."
They bought a building in an industrial zone, just south of Nashville's downtown, and set up an office, a storefront, a recording studio, and a live-performance space. Ben Blackwell, White's nephew, moved down from Detroit, and Ben Swank, White's longtime friend, moved from Toledo.
Their first official releases included several singles by White's other band, the Dead Weather, a single by Kentucky-based garage rocker Mildred and the Mice, and a single by New York singer-songwriter Rachelle Garniez, along with some White Stripes reissues.
None of these early records were by Nashville musicians, because Third Man's three men planned — for the most part — to keep to themselves. "I tread lightly on the scene in Nashville," White told the Nashville Scene in 2011. "I don't wanna cause any problems."
"We wanted to allow what was already happening there to kind of continue happening," says Swank, who acts, among other things, as the primary A&R for the label. "We didn't want to be perceived as these people who just moved here from out of town and were like, 'Oh no, this is ours now.'"
By 2017, though, Third Man would become an essential part of Nashville's musical landscape, and home to some of the city's most promising traditional country and Americana musicians, including Margo Price, whose debut album Midwest Farmers' Daughter was one of last year's biggest indie/country crossover successes.
Between 2009 and 2014, along with Jack White–related projects, Third Man reissued a number of vintage blues and country records and released hundreds of seven-inches by artists from around the country. The label also signed some new artists, including White's ex-wife, model and musician Karen Elson, Kelley Stoltz, and old-timey singer songwriter Pokey LaFarge.
In Nashville, they hosted live performances in the acoustically engineered "Blue Room," which they often recorded and pressed to vinyl. They started an online vinyl collectors club, and developed a dedicated — and sometimes obsessive — international fan base.
The label's owners also slowly but surely began to explore Nashville's music scene. "At first we were supportive fans," Swank says. They went to shows on Lower Broadway and in East Nashville, they made friends with local musicians, and, most importantly, they listened.
For Jack White's first solo tour in 2012, supporting the album Blunderbuss, he recruited a young local fiddle player named Lillie Mae Rische — who had also appeared on the album — as well as Cory Younts of Nashville's Old Crow Medicine Show to play in various iterations of his band.
Then, one Thursday night, around the beginning of 2015, when Ben Swank was watching a show at the Basement East in East Nashville, Margo Price, a regular on the neighborhood scene, took the stage, accompanied by a seven-piece band. He was surprised to see "a local artist going that full on for a weeknight gig," and when she began to play her voice blew him away.
For Price, this was just a regular night. She had been playing shows in Nashville for over ten years, first with her band Buffalo Clover (which at one point included Sturgill Simpson) and more recently as a solo act, but still hadn't been able to break into the city's commercial country-music industry.
At the time, Price was in the process of trying to shop around her debut album, Midwest Farmer's Daughter, which she had recorded with her own money. No one she shared it with was interested, though, until she and Swank made contact. "I had no management, I had no booking agent, I had no publicist," Price says. "I told my lawyer, 'I think they might be into signing me.' And he was like, 'Well, they only do singles. They just don't put out full albums, really very much.' I was surprised that they ended up picking it up."
Price finally connected with Swank, she says, through her pedal steel player, Luke Schneider. "He knew some folks over there and he told me they were into hearing my album." She sent it over to Swank, who shared it with the rest of the Third Man team. "We connected a lot," says Swank of meeting Price. "We're both Midwesterners by birth and there's a sensibility there that I think we share." By the end of September 2015, she had become Third Man's first contemporary country signee.
Midwest Farmer's Daughter was released on March 25, 2016, and received glowing reviews from a diverse range of publications, from Rolling Stone Country to The New Yorker to The Fader and Noisey. The album mixes classic country instrumentation — somewhere between Loretta Lynn and Waylon Jennings — with candid, first-person narratives. Her lyrics tell stories of her childhood in rural Illinois, her problems trying to navigate the music industry in Nashville, and coping with the loss of her son, Ezra, who died as an infant in 2010. "It was a concept record about who I was," she says.
Its critical success, which bridged the worlds of Third Man's hip indie-rock fan base, Americana purists, and mainstream country listeners, could also be seen in its sales. Midwest Farmer's Daughter peaked at No. 10 on the Billboard Country chart, and also reached No. 11 on the U.S. indie chart. On April 9, 2016, Price appeared as the musical guest on SNL, and at the 2016 Americana Awards in September, she won the award for "Best Emerging Artist." She is now Third Man's most popular artist besides Jack White himself.
Though Price was Third Man's first country signee, the label wasn't new to country music. In fact, they had been introducing their fan base to the sounds of vintage country for quite some time. In 2004, Jack White had produced and played on Loretta Lynn's album Van Lear Rose, which Third Man reissued in 2015, and in 2011, White collaborated with Wanda Jackson on the album The Party Ain't Over. Over the years the label had also released a collection of old recordings by the Carter Family, a live Willie Nelson album, and a reissue of the compilation The Lost Notebooks of Hank Williams.
The decision to sign Price also came at a time when the label was starting to reconsider their place in Nashville and Detroit's communities. They had just opened a second storefront in Detroit's Cass Corridor, and wanted to move toward establishing local identities in both cities. "These two cities are very important to us for very different reasons," Swank says. "Let's work with more local artists. Let's reissue things that make sense in the history and the context of the places we're located in."
In Nashville, Third Man aligned with the local scene further when, in October of 2016, they signed Lillie Mae Rische. By that point, she was one of White's go-to collaborators, and had played in the studio and on tour for White's Lazaretto album. Her own album, Forever and Then Some, which White produced, was released in April of this year. "She was always playing songs backstage and I think it took a while for Jack to convince her to let us do a record for her," Swank says. But when it came to recording, the process flowed naturally. "It was one of the first producer jobs for him where he just went, 'There's not a lot I need to add here.'"
Earlier this year, Third Man picked up another country artist: a staple of Nashville's live music scene named Joshua Hedley. Like Rische, Hedley had spent time playing fiddle as a side man for artists including Justin Townes Earle, Johnny Fritz, and sometimes for Margo Price. He also performed several nights a week at Roberts Western World, one of the famed honky-tonks on Lower Broadway in downtown Nashville, where he would play covers of classic country songs by George Jones, Merle Haggard, Waylon Jennings, and the like. "He calls himself 'Mr. Jukebox' because he just knows a million songs," Swank says.
When Hedley began to focus on his own songwriting, Third Man seemed like a perfect fit. He and Swank had known each other socially for a long time — "We were barstool buddies going back to when I first moved to town," Swank says – and Hedley had already played at a few Third Man sessions in recent years. So when Swank found out that Hedley had self-produced an EP, he was keen to listen. "It had this really sad Roy Orbison croon to it that was really striking. I sent it to Jack and we were just blown away that it was him and that's what he was doing."
"It's like, 'Man all this classic country stuff is back in vogue, and here's Joshua who's been doing it forever, let's get in his corner,'" Swank says. "It's almost an unfair thing, that other people could be doing it, but not this guy who's probably influencing them." Hedley officially signed to Third Man in June. "Every day of the last 24 years has led up to this moment," he wrote on Instagram.
While adding these local country artists was the Third Man roster was partly a calculated move, it also "just felt natural," Swank says. If you live in a city as vibrant as Nashville and care deeply about music, as someone like Swank, or Blackwell, or White does, it becomes almost impossible not to get involved. "It's always like 'People need to hear this and maybe we can be the people that help make that happen,'" Swank says.
Third Man's fans, too, seem to have reacted to the shift remarkably well. "Even though country music isn't generally my cup of tea, one thing 3rd Man has taught me is to be more open to new music," one user wrote on White Swirl, an online fan forum. "Our ingrown fan base really gets behind it," says Swank. "They understand that this stuff, yeah it's country music, but it's a little bit rock and roll as well. If not musically, then at least in philosophy."
Swank is right; there is something unique about their country artists' ethos — a certain edge that has the potential to cross genre lines, despite the traditional nature of the instrumentation itself. Price's, Hedley's, and Rische's songs and aesthetic are imbued with a kind of punk-rock spirit that harkens back to the outlaw country musicians of the '70s, but still feels thoroughly modern. They draw on tradition, but not in an ironic way. It's not a shtick.
"What Joshua's doing, for instance, if it wasn't handled as adeptly as he does it could come off as pastiche or just strictly retro," says Swank. "Even though it is very steeped in a classic country sound, I don't think it is. I think it's one-hundred-percent sincere."
For the artists, signing to Third Man, which is still most famously associated with Jack White's projects, provides an opportunity to stand out from the Nashville crowd. While still sticking to their country roots, they can tap into different scenes, and fans, outside the region. "I think if Joshua signed with somebody else, it would be great, and it could be good for his career, but it wouldn't be as exciting," says Swank of Hedley's decision to sign with them.
Exactly what makes an artist work on Third Man is hard to pinpoint. If it's not based on genre, then it must be something less tangible that is rooted in emotion rather than logic. "The music that does something for me is either very soulful or very challenging," Swank says. "But there's a lot of music that's soulful and authentic that doesn't make sense on our label."
The artists that interest Swank are the ones "that are gonna be doing what they're doing whether someone's getting behind them or not," he says. "That's how it felt when I went to see Margo and she was up there with this seven-piece band on a Thursday night. This is just what she does."
For now, Third Man's artists are doing that work for them. Joshua Hedley's album is due out next spring, and if his live performances are anything to go by, it is likely to draw on the '60s and '70s classic country sounds that he used to cover (his sweet spot is a point where his soft, George Jones-like vocals and tales of heartbreak meet Waylon Jennings' hell-raising, outlaw edge). "For me the genre of country music was perfected in 1965 and anything after that, albeit good, was experimentation," he told Rolling Stone late last year. After playing a series of shows in Australia, Lillie Mae Rische is performing this week at Flannel Fest, an Americana music festival in Wisconsin, and is on the bill for the mainstream country festival Stagecoach, in Indio, California, early next year. And Margo Price, whose new album All American Made came on October 20, is about to open for Tim McGraw and Faith Hill, two of mainstream country's biggest stars. "I'm happy to get exposure on all rounds," Price says of the shows. "Maybe we can turn some people on to some music that has a little more grit or dirt under its fingernails."
Some of the music execs who turned down her first album may well even be in the audience. "I think there's a lot of people trying to backpedal and say 'Oh no. We like tradition, we think that's cool too,'" Price says. "It's just real funny that people that were on the outside for a long time, they get on the inside, and all the insiders want a piece of the outside."