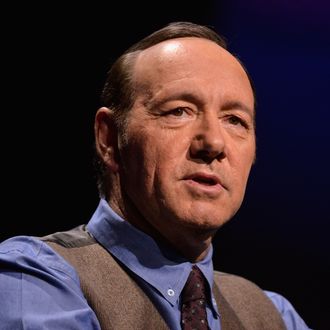 Kevin Spacey.
Photo: Michael Tullberg/Getty Images
Ridley Scott has spoken for the first time about his shocking decision to replace Kevin Spacey with Christopher Plummer in All the Money in the World just weeks out from the film's release, saying he never hesitated to take the risk. The director tells Entertainment Weekly that he'd been in Abbey Road working on the film's music in post-production when he was informed of the sexual-misconduct allegations against Spacey. "I sat and thought about it and realized, we cannot. You can't tolerate any kind of behavior like that," he says. "And it will affect the film. We cannot let one person's action affect the good work of all these other people. It's that simple." Scott says he immediately called Plummer and arranged a secret meeting in New York where the actor agreed to fill the role of J. Paul Getty. After securing the original filming locations, Scott then had to get the other actors onboard for reshoots without initially telling them the reason. He never spoke to Spacey directly about his removal from the film, and says he would've "handled it slightly differently" had Spacey called him to apologize, but that his decision was final. He also claims he has no knowledge of any misbehavior from Spacey on his set and wasn't aware of the allegations until the news broke.
Though Scott says the studio was skeptical that he'll be able to make the December 22 release date, he's since proved them wrong. While filming in Rome and London with Plummer, Michelle Williams, and Mark Wahlberg from just November 20-29, he says he and his editor have been cutting the new footage every night to have it ready in time to screen for Academy voters and release to the public. "I know I can deliver. I move like lightning," he says. Williams has also commended the speedy process, telling EW, "When this idea was hatched, I immediately started to feel better. This doesn't do anything to ease the suffering of people who were all too personally affected by Kevin Spacey, but it is our little act of trying to right a wrong. And it sends a message to predators — you can't get away with this anymore. Something will be done." See the first look at Plummer as Spacey's replacement, via EW, below.