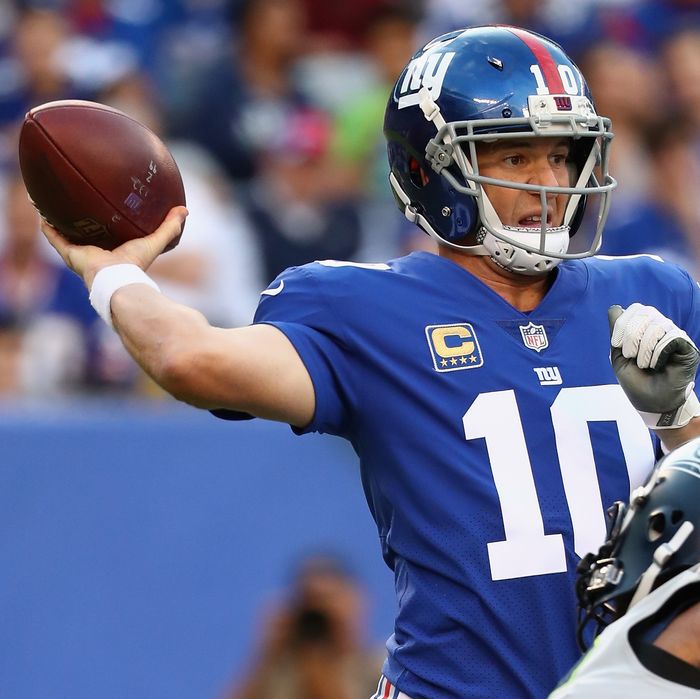 Photo: Al Bello/Getty Images
You know what would make the NFL thankful today? If people simply watched their games. During what has been an exceedingly difficult season for the league — what with divisive player protests during the national anthem, a high-profile power struggle between Cowboys owner Jerry Jones and NFL commissioner Roger Goodell, and season-ending injuries to some of the game's biggest stars — arguably its (and Papa John's) biggest frustration is that TV ratings continue to trend downward. For anyone interested in helping the league stanch the bleeding by tuning in — whether due to tradition, team loyalty, or a need to placate grumpy relatives — to what is a largely underwhelming slate of Thanksgiving games, here's how to watch on any of your devices, plus an overview of the matchups.
How to Stream the Games
On your phone
If you have Verizon, which is the NFL's exclusive mobile streaming partner, you can use the the NFL Mobile or Verizon go90 app to watch all the games for free (without counting against data usage). If you don't have Verizon, sit next to a cousin who does and try to broker a swap of your dessert for their phone. (Regardless of your mobile provider, none of the TV network sites or apps — NBC Sport, Fox Sports Go, etc — will work on your phone due to the Verizon deal.) Otherwise, using Slingbox will enable you to jump your cable TV feed to your phone, as will certain OTT offerings like Playstation Vue or FuboTV. You could also spend a maddening amount of energy clicking around the Xes and popups on illegal Reddit streams, but that may be more effort than one should be expected to expend on Thanksgiving.
On a tablet or laptop 
The Verizon exclusive only applies to phones, so you can use the broadcast networks' apps or websites for their respective games:
• FOX Sports app or foxsports.com for Vikings-Lions
• CBS app or cbs.com for Chargers-Cowboys
• NBC Sports app or nbcsports.com for Giants-Redskins
For the CBS and NBC games, fans can also use the NFL's platforms: the NFL app on tablet and nfl.com on p.c.s. These will require you to login through your cable or OTT subscriptions.
Game schedule
Of course, all that streaming info presupposes that you even want to watch the games. To help you decide, here's a breakdown of the day's lineup.
Vikings @ Lions (12:30 PM ET; FOX)
In recent years this game would typically help determine the runner-up in the NFC North, but Packers quarterback Aaron Rodgers does not at present time have an intact collarbone, so his perennially front-running team has faded into oblivion. That has provided opportunity for Vikings QB and shocking fringe MVP candidate Case Keenum to lead his team to an 8-2 record and a two-game division lead over the Lions. If Minnesota can prevail in this Thanksgiving afternoon tilt, they will effectively lock up the NFL North — but the Lions won the first matchup between these two teams earlier in the year, and that was on the road in Minneapolis.
Chargers @ Cowboys (4:30 PM ET; CBS)
A showdown between two teams that have failed to live up to expectations this season, though the Cowboys remain one of the NFL's top draws. The Chargers' relocation from San Diego to Los Angeles this year has resulted in something even worse than indifference: L.A. viewers used to get to the best games in the league on their local broadcasts, but now those spots are taken by the Chargers (and the Rams, who are actually having a solid season after moving to L.A. from St. Louis, though fans are yet to care). Dallas is missing star running back Ezekiel Elliott, who is serving a six-game suspension following domestic-abuse charges, and a loss in this game would just about be the nail in the coffin for the Cowboys' season.
As of press time, roughly 4 million Dish Network subscribers in a dozen markets — including major ones such as New York, Chicago, Dallas–Fort Worth, and L.A. — could be blocked from seeing this game due to an old-fashioned carriage dispute between CBS and Dish. Let's hope that gets resolved before kickoff, even if just temporarily, since it's unfathomable that anyone not be able to see the Cowboys on Thanksgiving. (Plus, the game falls during that peak food-coma-on-the-couch window).
Giants @ Redskins (8:30 ET; NBC)
Potential alternatives to watch instead of this race to the NFC East basement between New York (2-8) and Washington (4-6) include The Godfather Parts I and II on AMC and Hidden Figures on HBO. Or perhaps it's time to dive into Godless on Netflix?