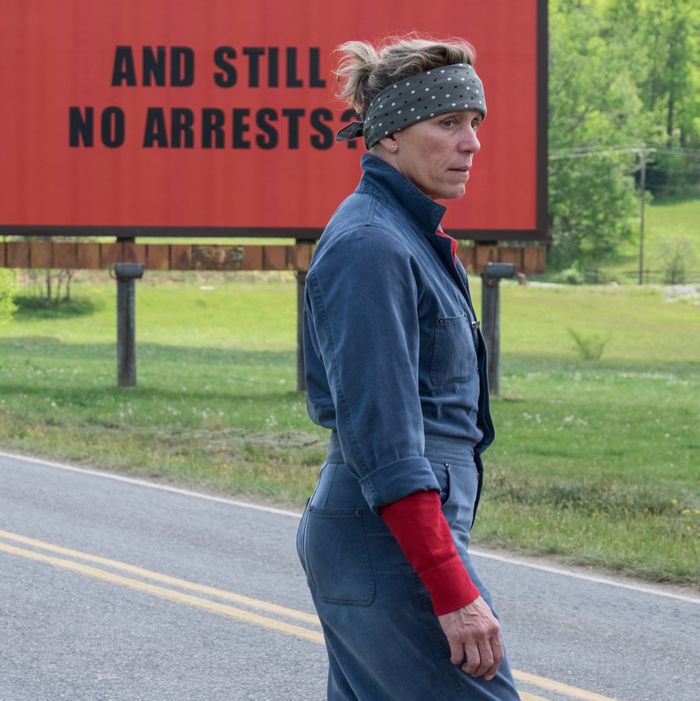 Photo: Fox Searchlight Pictures
There are many cruel, off-putting, and violent things that happen in Martin McDonagh's Three Billboards Outside Ebbing, Missouri, but we are not here today to talk about any of them. Instead, we're here to talk about a force for good: Frances McDormand's revenge jumpsuit, which she wears as she goes about her daily activities, primarily plotting out ways to intimidate the local police force into solving her daughter's murder case, and working at a local tchotchke shop.
Like Frances McDormand's furrowed brows and Frances McDormand's clenched jaw, Frances McDormand's revenge jumpsuit says "I mean business." McDormand plays a Missouri woman pushed to the edge by a senseless act of violence, which means that she's started to abandon the social niceties so often placed on people like her. She's got no time for coordinated outfits and limited interest in hairdos that don't involve ponytails. McDormand's hair is close cropped at the back into a sort of uppercut, which feels a little avant-garde and self-aware for her milieu, but still very badass.
Some important facts about the jumpsuit in question: It's a fairly anonymous navy blue, and McDormand's Mildred often accessorizes it with a muted bandanna and a glare. She wears the jumpsuit to work at her tchotchke shop, though there she covers it with a pink top, as if to cloak its power. It's part of a uniform — Mildred's co-worker Denise also wears a jumpsuit — and somehow particular to her.
The jumpsuit gets the point across more cleanly: It's of the film's world, yet elevated by McDormand's steely posture and performance. It's not that she doesn't care what you think about her, is that she cares so powerfully about other things — justice, namely — that her passion becomes magnetic. It's ordinary, the kind of clothing a woman might wear to disappear or seem sexless, made striking and powerful through force of will. Anyone could buy this outfit, Mildred owns it.
McDormand's jumpsuit is up there with Annette Bening's in 20th Century Women, part of a genre of costuming favored by actresses of a certain age whose characters are past the point of caring. Also in this genre: Laurie Metcalf's caftans in Lady Bird, Allison Janney's immense coats in I, Tonya (the bird is its own whole thing), and everything Meryl Streep has worn in a fun-Meryl movie (i.e. Mamma Mia!, not The Post). It's a genre of clothing that can only be carried off by a caliber of actress, and Frances McDormand is certainly of that caliber. Long live the jumpsuit, which is both medium and message, less no-fucks-given than every-fuck-thrown-down.