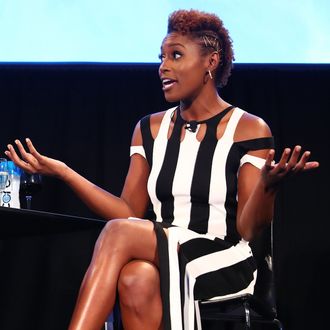 Issa Rae.
Photo: Joe Scarnici/Getty Images for Vulture Festival
Fans of HBO's Insecure became obsessed with Due North last season, the show-within-a-show that depicts a forbidden love affair between a slave owner (portrayed by Scandal's Scott Foley) and a slave (Girls Trip star Regina Hall).
So, how did the soap opera wind up in the comedy and become a running bit? Issa Rae shared the origin story at Vulture Festival L.A. on Sunday – and it all started during a lunch break.
"We saw two of the writers, Ben Dougan — he's a white guy — and he was with Dayna Lynne North, a black woman, and they were having lunch together outside one day," Rae explained. "We gave them a hard time and pretended like they were having an affair." She continued:
He's married. Then someone came up with the name: Dougan — Due — and her last name is North — Due North. And we were like, Oh, forbidden love affair. Then it just turned into, we should make this a slave show. And it just grew from there. We made a logo, which is a heart with chains. Then Natasha Rothwell, who plays Kelli on the show, and Ben Cory Jones wrote the episodes.
"Natasha wrote way too many things. They wrote like 30 pages, eight-to-ten episodes," Rae added. "[We were like] that's more than you write for Insecure!"