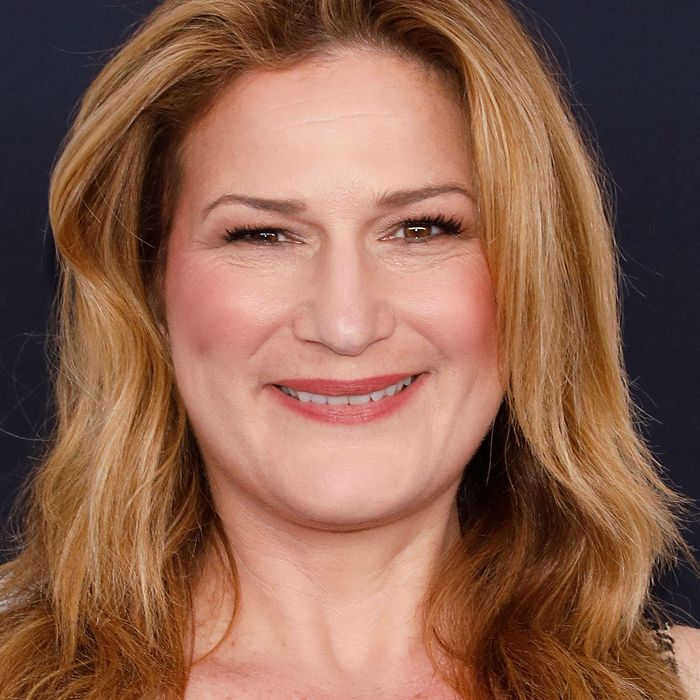 Photo: Taylor Hill/FilmMagic
Maria Bamford's Lady Dynamite returned to Netflix with its second season last Friday, and it's turned up the absurdity on Maria's world even higher. Now with flashes back to 1987 Duluth and flash forwards to Maria creating a meta version of Lady Dynamite itself, audiences get a deeper look into the various personalities in Maria's life that walk all over her as she and lovable new beau, Scott (Ólafur Darri Ólafsson), learn each other's foibles as Maria learns to assert and stand up for herself.
Among the fantastic returning characters is Maria's always delightfully awful talent agent Karen Grisham (Ana Gasteyer), not to be confused with real estate Karen Grisham (June Diane Raphael) and life coach Karen Grisham (Jenny Slate). Gasteyer's Grisham begins season 2 having recently had a spiritual awakening of sorts after crashing her Tesla and realizing she could sue Elon Musk. Mostly her brush with the Silicon Valley mogul has only brought about a change in clothing (without losing her wonderfully ridiculous glasses) and even more power. I talked with Gasteyer over the phone about working on the show, Karen Grisham's spiritual renaissance, and how being on a streaming show makes her character stronger.
How did you come to the project to begin with, and what interested you in working on Lady Dynamite?
There are projects that you have to hem and haw over, and then there's Lady Dynamite. It was an easy decision. They basically came to me and said, "We want you to play this ridiculous part." I was a longtime admirer of Maria's comedically, just to start with, and Mitch Hurwitz and I had done a couple false starts together, which happen in comedy. And Pam Brady I'd known about for a long time, she's been on the scene as long as I have, and she's a well-reputed — and deservedly so — writer. So it was an easy thing to do. And all these people I admire were already attached. I think Mary Kay Place was already involved and Lennon Parham, Bridgett Everett, Patton Oswalt. And it was an interesting subject and Netflix is easy to say yes to. So it was just like, "Yeah, that sounds fun," the end.
On Lady Dynamite, filming is the super fun thing. It's never what I expect it to be, and it's always ridiculous and fun.
What's the creative process like working on that set, as compared with other shows you've worked on?
The Netflix factor is really considerable. It's an incredibly creative venture. It's a set budget going in, and there's not a lot of meddling. The difference between streaming television and network is that you're not hanging on every week to see what your rating is. You're just making a show. And it's in a very luxurious creative bubble with very little tinkering. Certainly from an acting standpoint, there isn't a sense of "the suits are here and we have to play by the rules."
And for Karen Grisham, that means that I can drop considerably more four-letter words than you could on network television. Which, frankly, works really well for the character. She's not just blue for blue's sake, she's a perverse and bombastic human being that would be swearing that much in an office setting to exert her power over everybody else.
I'd wondered what that character would be like if she wasn't on streaming and couldn't curse as much!
I know! If she were on one of the Big Four networks, she would be much more sedate. And I think that's what makes her an accurate lampoon of that aspect of Hollywood, because it is really visceral and really power wielding, frankly, and intimidating. And that makes it really fun.
She has a masculine bravado that feels like it's from another era.
Like 1993?
Yeah! When I first saw her, I thought, "Oh, she's every distracted Hollywood type I've ever met."
Exactly. I don't really think her gender factors into it. She's a mashup of that really aggressive Hollywood type. And there, it doesn't matter if you're a man or a woman to have that kind of aggression.
I love the episode where she comes face to face with the other two Karen Grishams. What was that like, especially since the other two are also very ridiculous characters?
It was incredibly fun and hilarious. Of course, the joke of all three Grishams was there, but June and Jenny and I all have a certain intensity, which I think is the common thread of people who bulldoze Maria. But it was fun to see the colors of intensity — that there's different kinds of "pushy" in people's lives. The places [Maria's character] was being bulldozed were basically work, home, and personality. So it was interesting from an acting standpoint to see the other ways that people play intensity and aggression.
Karen Grisham undergoes a sort of spiritual journey before season 2 starts. What's that about, and do you think it'll actually have any impact on her, or will she always be a tough, fast-talking Hollywood type?
Yeah. I think partially she's such an opportunist that, within a macro-second of a being in a massive car crash, she already saw how much money she could make and how she could further her own career, which is incredibly savvy. [laughs] And she also knows she can get extra points with a spiritual awakening. Which, it may be an awakening of sorts in that she says, "How powerful do I want to be and why?" I think what it boils down to is that she wears robes and decorated her office with Buddha shit and knows that people are gonna be a little more afraid of her now that she's "spiritual."
Which is also a great commentary on using spirituality in that way.
There really was a point when I just turned to Pam and was like, "Wait. So being spiritual for Karen Grisham just means wearing the robes mostly, right?" She was like, "Yup!"
Photo by Beth Dubber/Netflix.
Erica Lies is a writer and comedian. Her work has appeared in Bitch, The Hairpin, and Paste Magazine, and her humor writing has run in McSweeney's Internet Tendency and National Lampoon.