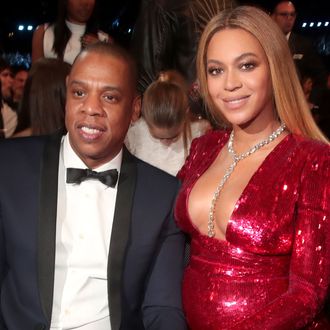 The rumors were true!
Photo: Christopher Polk/Getty Images for NARAS
Finally, the origin story of both Beyoncé's Lemonade and Jay-Z's 4:44 has been confirmed beyond the rumors. In a lengthy conversation with New York Times executive editor Dean Baquet, Jay-Z has revealed that the Bey-Hov joint album did at one point exist and, in fact, it's what they were working on before she changed course and made Lemonade instead. "We were using our art almost like a therapy session. And we started making music together," he explains. "And then the music she was making at that time was further along. So her album came out as opposed to the joint album that we were working on. There was never a point where it was like, 'I'm making this album.' I was right there the entire time … It just felt like, she should go first and share her truths with the world." He says he never thought of 4:44 as a response to her album while making it, and hinted that the two still have some of the material from their joint album. A million dollar prize to whoever can procure that laptop!
Elsewhere in the interview, Jay-Z touches on his strained relationship with Kanye West. Though communication hasn't been severed entirely — Hov reached out to Kanye days before this September interview to tell him "he's my brother" — he says they have yet to discuss their issues, which Hov doesn't specify, or reconcile:
It's a complicated relationship with us … Hopefully when we're 89 we look at this six months or whatever time and we laugh at that. There's gonna be complications in the relationship that we have to get through. And the only way to get through that is we sit down and have a dialogue and say, 'These are the things that I'm uncomfortable with. These are the things that are unacceptable to me. This is what I feel.' I'm sure he feels that I've done things to him as well. You know what I'm saying? These are — I'm not a perfect human being by no stretch. You know … But [West is] a very compassionate person. And a lot of times he get in trouble trying to help others. So I can identify with it. It's just that there's certain things that happened that's not really acceptable to me. And we just need to speak about it. But there's genuine love there.