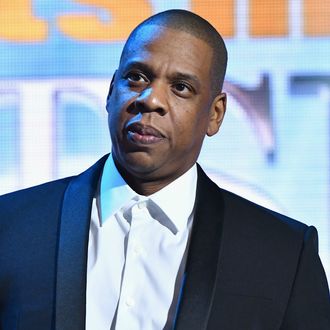 Photo: Slaven Vlasic/Getty Images for Sports Illustrated
Earlier today, news broke that rapper Meek Mill was sentenced to serve hard time for violating probation he was put on following a drug and weapons conviction in 2008. Mill had been arrested for misdemeanor assault back in March, and then again in August for reckless driving and reckless endangerment for a dirt-bike stunt filmed in Manhattan. According to the Philadelphia Inquirer, the charges stemming from the two arrests were ultimately reduced and Mill was able to enter a pretrial diversion program both times. In October, he pleaded guilty to the reckless driving charge, while the March assault charge was dropped entirely, the rapper being tasked with community service instead. Despite the reduction and dismissal of the charges against him, Mill is now facing two-to-four years in a Pennsylvania state prison for probation violation, a fact many supporters find deeply unfair. According to a Facebook post written late Monday night, Jay-Z tends to agree.
"The sentence handed down by the Judge — against the recommendation of the Assistant District Attorney and Probation Officer — is unjust and heavy handed," Jay wrote on Facebook. "We will always stand by and support Meek Mill, both as he attempts to right this wrongful sentence and then in returning to his musical career." Jay has spent much of the past year addressing what he and many other see as critical flaws in the judicial system, including the bail industry, which Jay himself dubbed "exploitative" and that critics point out unfairly penalizes those without the resources to pay. In the beginning of 2017, Jay-Z produced the Spike docuseries Time: The Kalief Browder Story, which explores the tragic real-life account of Browder's three-year imprisonment in New York's Rikers Island without a trial.
Update, November 8: At his concert in Dallas on Tuesday night, Jay-Z gave a more explicit reaction to Meek Mill's sentencing amid accusations of bias and abuse of power on the part of the judge involved. "He caught a charge when he was, like, 19," Jay told the crowd. "He's 30 now. He's been on probation for 11 years. Fucking 11 years. The judge just violated him. He got two to four years because he got arrested for being on a bike and popping a fucking wheelie." He then added a quote from "The Story of O.J.," his song about systemic racial injustice: "Still nigga."