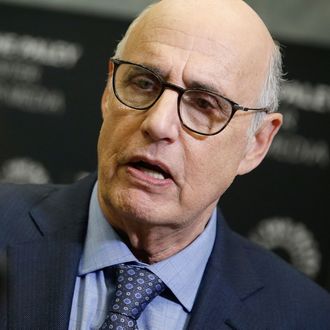 Photo: John Lamparski/WireImage
Transparent will look a lot different when its upcoming fifth season debuts on Amazon. According to Deadline, Jeffrey Tambor has decided he will not return to the series next season following last week's news that guest star Trace Lysette had come forward with sexual misconduct allegations against him. Here's the statement Tambor gave to Deadline regarding his decision:
Playing Maura Pfefferman on Transparent has been one of the greatest privileges and creative experiences of my life. What has become clear over the past weeks, however, is that this is no longer the job I signed up for four years ago. I've already made clear my deep regret if any action of mine was ever misinterpreted by anyone as being aggressive, but the idea that I would deliberately harass anyone is simply and utterly untrue. Given the politicized atmosphere that seems to have afflicted our set, I don't see how I can return to Transparent.
Tambor has denied the allegations made by Lysette as well as his former personal assistant Van Barnes, saying last week that "for all my flaws, I am not a predator and the idea that someone might see me in that way is more distressing than I can express." Lysette called on Amazon to "remove the problem and let the show go on" and "re-center the narrative of Transparent on the experiences of the other trans characters and family members audiences have grown to love on the series." Last week there were reports that the Transparent writers were discussing the possibility of writing Tambor's character out of the show next season, and now it appears that possibility has turned into a certainty.