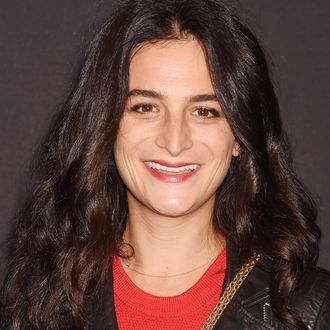 Photo: Jeffrey Mayer/WireImage
Jenny Slate has a book in the works. According to Entertainment Weekly, Little, Brown and Company is set to publish a book by Slate described as "a feminist essay and fable collection." The book will take a look at "what it's like to be female in a misogynistic culture," and in it Slate "imagines the perspectives of other preyed-upon creatures (a deer venturing into a meadow; a globe of fruit plucked from its branch), invites us into the haunted house of her childhood, and celebrates the power of being vulnerable and open, even in the face of rejection and fear." The book, which is currently untitled, is expected to be out sometime in 2019. Here's Slate statement on the news:
There is so much natural magic to being a human, and in feminism as a movement and a way of life. I'm thrilled that Little, Brown, and Co. has given me a chance to explore and explain where I find this magic, and how it feels to be alive and a woman in today's wild world. Let's get going!