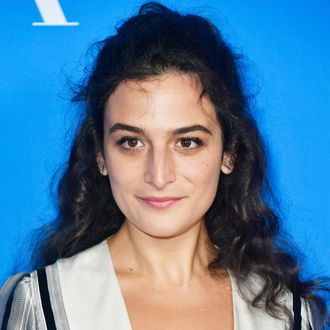 Slate.
Photo: Frazer Harrison/Getty Images
The holidays are here, and in the spirit of the season, comedian, actress, and style icon Jenny Slate has gifted us with not one, but TWO pieces of great news! Not only are she and trophy boyfriend Chris Evans back together, Slate announced today that she's signed a deal with Little, Brown to write a collection of feminist fables.
According to Entertainment Weekly, the essays "will explore what it's like to be female in a misogynistic culture":
The witty and at times fantastical book imagines the perspectives of other preyed-upon creatures (a deer venturing into a meadow; a globe of fruit plucked from its branch), invites us into the haunted house of her childhood, and celebrates the power of being vulnerable and open, even in the face of rejection and fear.
The book is expected to be published in 2019, so until then we'll just have to content ourselves with the image of Jenny Slate voicing a tiny piece of fruit while Chris Evans looks on adoringly, which, honestly, is a gift in itself.