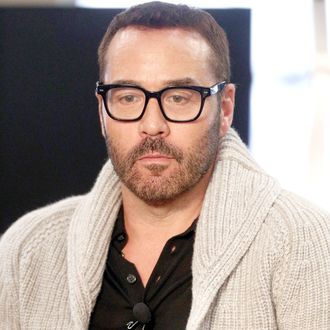 Piven.
Photo: Frederick M. Brown/Getty Images
After one woman accused Jeremy Piven of sexually harassing her on the set of Entourage and another alluded to his misconduct, a third woman now claims the actor sexually assaulted her, in 2003. Advertising executive Tiffany Bacon Scourby tells People that she met Piven at a nightclub where he asked for her number and invited her to be his guest to his Late Night With Conan O'Brien appearance the following day. When she met him at his suite at the Trump Hotel to go to the taping, she says that's when things allegedly turned ugly. While waiting for his publicist, she says Piven then "jumped on top of me. I tried to push him off and he forced me to the ground." She claims that Piven exposed himself to her and began rubbing his genitals against her body for 15 minutes, "held down [her] hands," and proceeded to ejaculate on her shirt. Scourby says she was then able to push him off and escape the room. "I cried the entire way back to my hotel," she remembers, telling a friend who confirmed her story to People about the incident along the way. She then took a train back to Washington, D.C., in tears.
She says she decided to come forward after Piven denied previous allegations made against him. "It couldn't have just happened to me and couldn't have just happened to her," she says. Piven has also denied Scourby's allegations in a statement to People: "Let me be absolutely clear, this simply did not happen. I would never force myself on a woman, ever. I cannot speak as to why a person would create a story like this." Reps for Piven told People that the actor is willing to take a polygraph test to prove his innocence and is looking into legal options.
Update, 6:45 pm: Jeremy Piven has issued a new statement via Twitter denying the accusations of sexual assault.