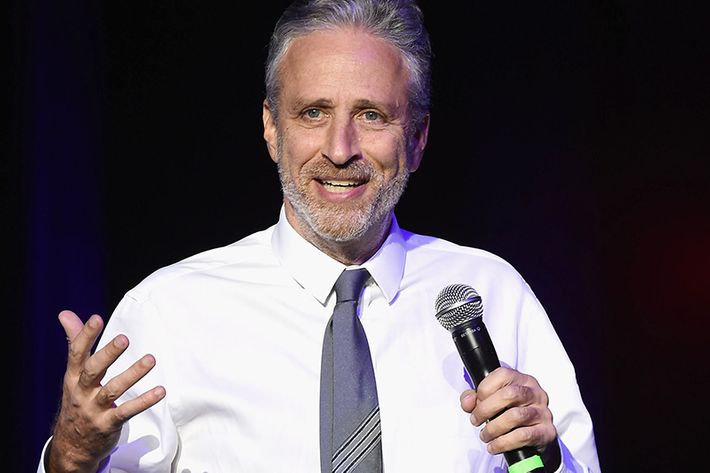 Praise the comedy gods – Jon Stewart is back on television, albeit for one night only. On Saturday, November 18 at 8 p.m., HBO will air benefit special Night of Too Many Stars: America Unites for Autism Programs. Stewart will be hosting the biennial event live from The Theater at Madison Square Garden, and in keeping with its monkier, the lineup will indeed be star-studded (and particularly stacked with big names in comedy).
Spearheaded by humorist and writer Robert Smigel whose son has autism, the first iteration of Night of Too Many Stars was a 2003 charity dinner. Stewart has been involved from the start and official host since 2005. The benefit, which was first televised in 2006, has grown exponentially – over the years, Night of Too Many Stars has raised nearly $24 million for autism. Here's what to know before you tune in.
The Lineup is Almost Too Good
We're talking Stephen Colbert, Abbi Jacobson, John Mulaney, John Oliver, Adam Sandler, Jordan Klepper, Olivia Munn, Hasan Minhaj, J.J. Abrams, Rob Corddry, Ellie Kemper, Howie Mandel, Chris Rock, Ben Stiller, and more level-good. The one-and-a-half-hour event will include stand-up sets, sketches, performances, and also short films.
While we're not totally sure what specific shenanigans will unfold, if this'll be anything like Night of Too Many Stars specials of years past, we're pretty excited. Like in 2015 when Paul Rudd subjected himself to the dreaded "Wheel of Rudd" and landed on "Baby Bird." This entailed an audience member masticating a Zabar's roasted chicken and regurgitating it into Rudd's mouth, obviously. Or, on a very different note, the legitimately heartwarming moment in 2012 when Katy Perry performed "Firework" alongside a young girl on the autism spectrum.
The Cause Is Incredibly Worthy
Most importantly, this is for all an incredible cause. The proceeds will benefit nonprofit organization NEXT for AUTISM, which focuses on empowering people living with autism and their families by creating and also funding resources. Take NEXT for AUTISM's very first initiative, the NYC Autism Charter School East Harlem which opened in 2005, or the brand new NYC Autism Charter School Bronx, for example. NEXT for AUTISM also supports organizations like Hunter College's Autism Research Practice and Policy Center, which trains teachers, and vocational programs like Spectrum Designs, an apparel customization shop that employs people on the spectrum.
Proceeds from ticket sales will go to NEXT for AUTISM, and those watching from home are encouraged to text to donate. Also during the program, audience members will be treated to highly entertaining auctions and donate-to-win contests, speaking of which …
There's Going to Be Drama
Famous frenemies Jimmy Kimmel and Matt Damon are facing off for Night of Too Many Stars. The rivalry is long-standing – Kimmel regularly closed his show with his apologies to Damon for running out of time. So, it should be sufficiently awkward/entertaining when a lucky donor and a friend win the chance to share a meal with the "feuding" duo. It could be even be you, if you donate before November 18.
Moral of the story: If you like comedy, good causes, and drama (be honest), you should probably tune in. Catch Night of Too Many Stars Saturday, November 18 at 8:00 p.m. on HBO, HBO GO, and HBO NOW.
This is paid content produced for an advertiser by New York Brand Studio. The editorial staff of Vulture did not play a role in its creation.