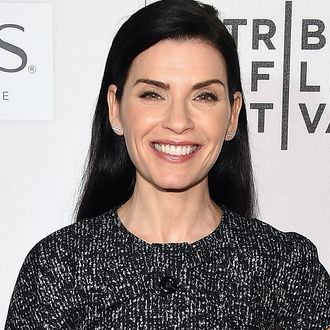 Photo: Dimitrios Kambouris/2016 Getty Images
The Good Wife's Julianna Margulies has become the latest actress to speak out against Hollywood's rampant sexual-harassment problem. In a new interview on Sirius XM's Just Jenny show, the actress revealed two separate instances in the 1990s involving Harvey Weinstein and Steven Seagal.
Regarding Seagal, the actress explained that a casting agent sent her to Seagal's hotel room in New York under the pretext of going over an audition scene one final time. "I lived in Brooklyn, and I said, 'Oh, I don't do that. I don't travel. I don't have money for a cab.' And I didn't. And I said, 'And I don't take subways late at night.' And she says, 'Don't worry, we'll reimburse you. And I'm here, a woman,'" Margulies recalled. "I got to the hotel at 10:40, and she wasn't there. And he was. Alone. And he made sure that I saw his gun, which I had never seen a gun in real life. And I got out of there unscathed … I don't know how I got out of that hotel room. I sorta screamed my way out."
A few years later, Margulies was invited to have a meeting with Weinstein in his hotel room to discuss a potential film career, using her experience with Seagal to insist that his female assistant join them in the room. "She knocked on the door, and she was standing behind me," Margulies explained. "And he opened the door in a bathrobe. I could see that there were candles lit in the room, and there was a dinner for two. And I saw him stare at her, daggers. And I caught her in a shrug — like, 'What could I do?' And he looked at me, furious, and he took the door and he said, 'Just wanted to say good audition.' And he slammed the door. And, of course, I didn't get the part." Margulies hasn't encountered either man since.