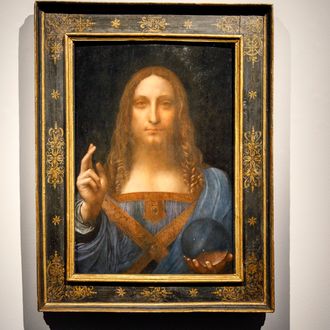 Salvator Mundi.
Photo: TOLGA AKMEN/AFP/Getty Images
On Wednesday night, Leonardo da Vinci's Salvator Mundi sold at auction for $450.3 million at Christie's, reports the New York Times. Despite some questions regarding the authenticity of the Renaissance painting of Jesus, the sale far surpassed the previous record for a work of art set at auction. The previous highest price was Picasso's Women of Algiers, for $179.4 million in 2015.
Though the auction itself lasted for less than 20 minutes, Christie's embarked on a long marketing tour leading up to Wednesday. Heralded as the "Last da Vinci," Salvator Mundi is the last known painting by the master to be owned privately and is one of less than 20 paintings to still be in existence (the others are in museums). Before the sale, thousands clamored for a chance to see it at pre-auction viewings in Hong Kong, London, San Francisco, and New York
While many leading experts agreed that the work was indeed done by da Vinci, some questioned whether it was partially the work of talented artists in the master's studio. Some also raised concern about the extensive amount of restoration work done and its poor condition.