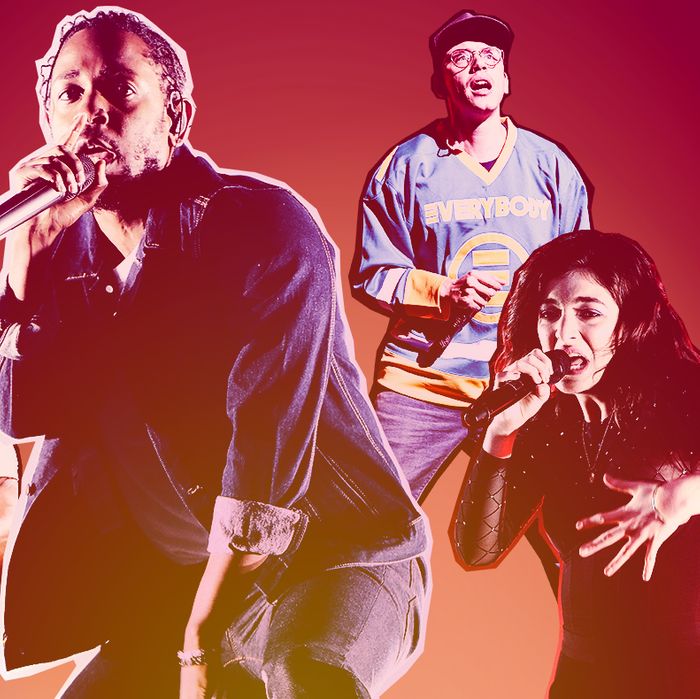 Grammys season is fast approaching.
Photo-Illustration: Vulture and Photo by Getty Images
The Grammys snuck up on us! Foregoing their usual early December announcement, the Grammys are set to release the nominations for its 2018 ceremony on November 28, a.k.a. tomorrow. Last year brought a controversial end to the battle between Adele and Beyoncé, and this year very well could incite a new feud. In preparation for the Grammys' big move back to New York City for its 60th anniversary (which airs January 28), we've made some educated guesses about which artists music's biggest institution will nominate and which stories you'll want to watch closely as they unfold. Check back on Vulture tomorrow morning at 8:30 a.m. ET for the full nominees list, and for a chance to tell us how wrong we were.
Taylor Swift's chances will be limited.
First, some housekeeping: The Grammys' eligibility period for next year only covers music released between October 1, 2016, and September 30, 2017. Which puts Taylor Swift's Reputation and her chance to pick up another Album of the Year on hold until 2019, as the album came out November 10 of this year. However, its first two singles, "Look What You Made Me Do" and "… Ready for It?" just barely made the cut. Look for the polarizing "LWYMMD" to contend in the pop categories — and less likely, though not impossible — Record of the Year. Taylor's best bet, though, is "Better Man," the song she co-wrote for Little Big Town. It took home Song of the Year at the CMAs; expect it to get love in the country categories and possibly even the Grammys' Song of the Year (which awards the songwriters, not the performers).
Taylor's loss, though, is plenty of other artists' gain. Those whose albums missed the deadline last year — think Bruno Mars, the Weeknd, Lady Gaga, A Tribe Called Quest, Miranda Lambert, Metallica, Garth Brooks, Childish Gambino, John Legend, Run the Jewels, the Rolling Stones, J. Cole, Neil Young, Post Malone — all get their go this year. Look for Bruno Mars and, possibly, the Weeknd to pop up in Album of the Year.
Drake will intentionally be missing from the action.
Drake was a two-time winner at last year's Grammys, but don't expect him to repeat next year. He reportedly did not submit his playlist-not-an-album More Life for consideration after snubbing the show earlier this year because he didn't want the awards he won anyway. That leaves him with only a handful of featured verses to rely on for nominations, if he even cares.
Which means this might finally be Kendrick Lamar's year …
Kendrick Lamar has twice been nominated for Album of the Year and twice come up short. He lost to Daft Punk in 2014 and, controversially, to Taylor Swift in 2016. Neither of those artists (or Drake) will be a threat this year, leaving the door open for Lamar to finally run away with the top honor for his latest album, DAMN.
… unless Jay-Z or Ed Sheeran spoil the fun.
Except, to win, Kendrick will have to fend off some big dogs. For Album of the Year, he'll likely be up against Jay-Z's 4:44 and Ed Sheeran's Divide. Hov is the eighth-most nominated artist of all-time, with 59 noms and 21 wins total to date. His previous album, Magna Carta Holy Grail, garnered six noms, and it was nowhere near as well reviewed as his latest confessional, which has been praised as a return to form. Shockingly, Jay-Z has never been nominated for Album of the Year, a fact that could work in Kendrick's favor. Should Kendrick and Jay-Z both contend for Album of the Year, however, it might hurt each of their chances for a win.
The Grammys try to at least pretend not to operate with genre bias by giving equal opportunity in its top tier categories, save for what they define as pop. That generally levels out to a sort of "one album per category" unspoken rule for Album of the Year, where rap has historically been screwed. In fact, the Grammys have only ever nominated two rap albums for Album of the Year in the same year three times: Eminem's The Eminem Show and Nelly's Nellyville (2003), Missy Elliott's Under Construction and OutKast's Speakerboxxx/The Love Below (2004), and Kendrick Lamar's good kid, m.A.A.d city and Macklemore's The Heist (2014). Only once when such shared recognition happened did one of those rap albums actually go on to win (Speakerboxx/The Love Below).
If the Grammys can't pick between Kendrick and Jay-Z, Sheeran (or maybe even Bruno Mars) might win by default. He should at least be guaranteed a nom: Divide was the highest-selling album of the year until Reputation came along, and the Grammys love a cash cow. It also helps that Sheeran is a previous nominee in this category.
"Despacito" will either win big or come up empty.
What the Grammys decide to do with "Despacito" might be the night's biggest story. Luis Fonsi and Daddy Yankee's remix with Justin Bieber is statistically one of the biggest songs music has ever seen, but the Grammys rarely fare well in uncharted territory. Seventeen years ago, the institution had enough sense to recognize that Spanish-language music is expansive and popular enough to deserve its own separate awards show. At the Latin Grammys last week, "Despacito" predictably cleaned house, taking home both Song and Record of the Year. But what happens when a song like "Despacito" achieves unprecedented crossover success? The Grammys has its own Latin categories but not one of them awards individual songs, nor are they ever televised. To further complicate things, "Despacito" doesn't even belong to an album that's been released (Fonsi's next album is forthcoming). So then where to put "Despacito"?
In a world where the Grammys are reflective of the American cultural populace, it would be nominated for, and would win, Record the Year, no contest. And that may very well be how this plays out. The Grammys have previously nominated crossover hits like Ricky Martin's "Livin' la Vida Loca" and Los Lobos' "La Bamba" remake for Record of the Year, and even gave it to Santana's "Smooth," but only one of those three was majority Spanish-language like "Despacito." If the Grammys can remove its cultural blinders, it's possible they would allow a reggaeton hit to contend as a pop record. With the Bieber boost, "Despacito" should have a shot at Best Pop Duo/Group Vocal Performance.
Best New Artist should be stacked, but there's a clear favorite.
Slowly but surely, the Grammys are getting hip to breakout artists while they're still actually on the rise. Three new names that should expect to see a nomination in this category all contributed to the same song: "1-800-273-8255." Lead by rapper Logic and featuring emerging singers Alessia Cara and Khalid, the song ticks all the Grammy boxes: it's a hit, critically admired, but above all, applauded for having a cause. According to the National Suicide Prevention Lifeline (whose number serves as the song's title), the song is responsible for the organization's second-highest daily call volume ever recorded after its release, and it spiked further following the trio's performance at the VMAs. It's a shoo-in for Record and Song of the Year nominations and should give a boost to BNA noms for all the artists involved. Both Cara and Khalid are also favored in this category for their solo work; Khalid previously took home BNA at the VMAs.
Post Malone, songwriter turned solo artist Julia Michaels, and, much less likely, Cardi B may also contend, but this should ultimately be SZA's award to lose. She's coming off an acclaimed, star-making debut album, scene-stealing work on Rihanna's "Consideration," and continued growth within TDE, home to Grammy favorite Kendrick Lamar — all of which should have her dominate the R&B and Urban Contemporary categories and be a lock for BNA. (We should also note that artists you might expect to see here like Harry Styles, Kehlani, and Halsey are all ineligible either because of prior nominations or, in Harry's case, because he was once in One Direction, even though they were never nominated.)
Women will be overshadowed elsewhere.
It's been another dismal year for women in music, at least in terms of chart performance. Only two women-led songs have reached No. 1 on the Hot 100; meanwhile, half a year went by before a woman got a No. 1 album, and since then, there have only been a handful. The gender gap on the charts will almost certainly be reflected in the Grammy noms. Unlike last year's Beyoncé –Adele showdown, the female star-power will be limited: Lorde might be the best shot for a woman in Album of the Year. Critically divisive albums from Lady Gaga, Katy Perry, Lana Del Rey, and Halsey will likely underperform in categories where they're up against the Ed Sheerans, Bruno Marses, and Harry Styleses of the pop sphere. Meanwhile, the narrative around Kesha's triumphant return will likely have made more noise than the actual music itself, though "Praying" deserves its shot at Song of the Year. Country, however, could tell a slightly better story for women, with albums from Miranda Lambert, Reba McEntire, and Little Big Town.
Rap is the category to watch this year.
In that same vein, rap has historically been a man's game, and it's glaringly true at the Grammys. Cardi B might be rap's great disruptor this year if the Grammys can see fit to nominate "Bodak Yellow" for Best Rap Song and, bigger yet, Record of the Year, as they did for Iggy Azalea's "Fancy" years ago.
The Grammys can't predict an artist's longevity and neither can the modern rap game, but how the institution continues to treat rap virality will be telling. Earlier this year, the Grammys announced that rap categories will be subject to a nominations review committee as a means to "eliminate the potential for a popularity bias that puts emerging artists, independent music, and late-year releases at a disadvantage." (Rap is among 15 other fields with similar committees, so this move wasn't entirely targeted.) Last year, the Grammys paved the way for Chance the Rapper's multiple wins by finally making streaming-only music eligible.
This year, the Grammys will have to decide just how much it is willing to adapt with rap in the SoundCloud, playlist, and meme age by whether or not it nominates songs like Migos' "Bad and Boujee," Rae Sremmurd's "Black Beatles," Lil Uzi Vert's "XO Tour Llif3," and Future's "Mask Off." Also, are the Grammys prepared to choose between Future's two back-to-back No. 1 albums? Assuming Childish Gambino submitted Awaken, My Love! and, especially "Redbone," as R&B, will the Grammys allow him to pivot from rap after they've already previously nominated him for Best Rap Album? (As Beyoncé learned last year, the Grammys do not take kindly to crossing certain genre lines.) And what will the Grammys do with rappers like XXXTentacion and Lil Pump? The big story remains Kendrick versus Jay-Z possibly vying for Album of the Year, but the smaller-level rappers and hits ultimately make a longer-term difference to the institution.