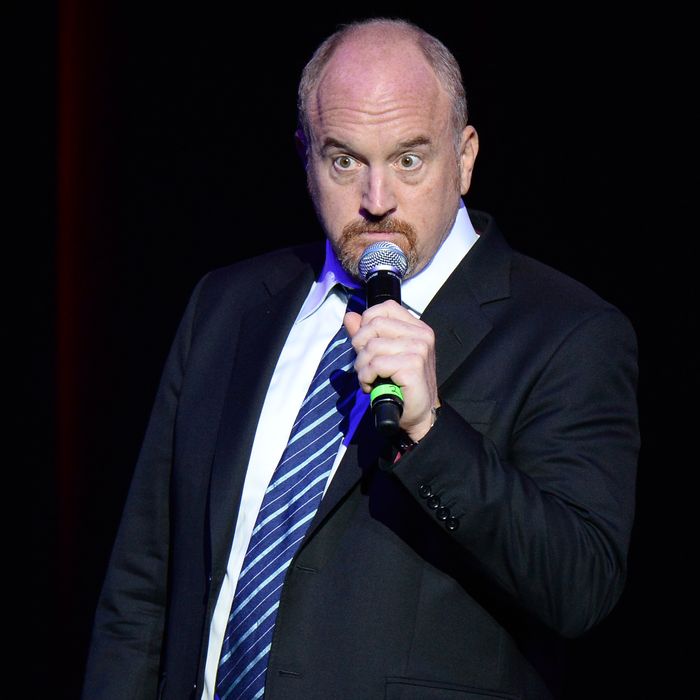 Louis C.K.
Photo: Kevin Mazur Photography/Getty Images for The Bob Woodruff Foundation
On Thursday, the New York Times broke open another of Hollywood's dirty secrets, publishing interviews with five women in comedy who say Louis C.K. "crossed a line" by masturbating or asking to masturbate in front of them. As with Harvey Weinstein, the stories about C.K. had been floating through the "whisper network" of women in the industry for years, occasionally making their way to the public through blind items and interviews with female comics. Here is a summary of what we know.
March 19, 2012
Gawker runs a blind item titled "Which Beloved Comedian Likes to Force Female Comedians to Watch Him Jerk Off?" The post describes a "shameless funnyman" and "critically cherished sitcom auteur" with a habit of masturbating in front of women without their consent. The most specific allegation dates to the Aspen Comedy Festival, where the comedian reportedly exposed himself to a female comedy duo in his hotel room and blocked the door when they tried to escape. The post is widely interpreted to be about C.K., who has a comedy special called Shameless.
March 21, 2012
On Facebook, comedian Doug Stanhope links to the blind item, saying it's about him. In the comments, fans pop up to say that, no, it's actually about C.K.
April 20, 2015
On an episode of her podcast*, I Seem Fun, comic Jen Kirkman describes an unnamed comedian — "lauded as a genius … basically a French filmmaker at this point" — who is "a known perv," but is protected by other men in the industry. "This guy didn't rape me," she says, "but he made a certain difficult decision to go on tour with him really hard. Because I knew if I did, I'd be getting more of the same weird treatment I'd been getting from him." The podcast episode is later deleted.
May 15, 2015
Gawker publishes email correspondence between a tipster and someone using the email address louisck@louisck.com. (The comedian's representative refuses to confirm or deny that the email belongs to C.K.) The tipster, who is active in the comedy scene and says he's had friends harassed by C.K., claims he emailed the comedian to ask him to "stop taking his penis out in front of uninterested and frightened girls," only to receive a response asking for his phone number. He tells Gawker the resulting phone conversation with C.K. was brief; he says he felt like the comedian was "sizing [him] up" and "trying to find out what [he] had heard." Gawker's story on the conversation also includes a second allegation of C.K. masturbating in front of two women, this time at the Just for Laughs comedy festival.
August 14, 2015
On the Nerdist podcast, Kirkman clarifies her earlier remarks. Without naming the comedian, she says that having her complaints aggregated alongside the earlier rumors about C.K. put them in the wrong context. The famous comedian, she said, "said something kind of creepy" to her, but she said he "in no way physically violated my space, I did not see his body parts, he did not corner me, it was just a couple creepy incidents." Going on tour, she said, would have meant the possibility of being annoyed by more "puppy dog" advances: "I just don't want to have to do that all the time." Kirkman also mentioned that the male comedian had reached out to her to talk about it. "That person, on their own, was like, 'Yeah, I was kind of a creep,'" she said. "I was like, 'You are a creep. That's who you are! And God bless you. That was something that was staying in me for a while, and I was having resentment about other things. So I talked about you on my podcast, because I was just in a resentful mood, and I was just like, bleh, sometimes people are creepy.'"
June 13, 2016
In an interview with New York, C.K. dismisses the allegations. "I don't care about that," he says. "That's nothing to me. That's not real." Asked why he has refused to comment on the story, C.K. says "you can't touch stuff like that … If you need your public profile to be all positive, you're sick in the head. I do the work I do, and what happens next I can't look after."
June 30, 2016
In an interview with the Daily Beast, Roseanne Barr predicts that, after Bill Cosby, another male comic will get "busted." She decides to name him: "It's Louis C.K., locking the door and masturbating in front of women comics and writers. I can't tell you — I've heard so many stories. Not just him, but a lot of them. And it's just par for the course. It's just shit women have to put up with." Barr later clarifies in an email that she had no "first-hand knowledge" of the allegations, and was only reporting what she'd heard through the whisper network.
August 23, 2017
In an interview with the Daily Beast to promote her Amazon show One Mississippi, Tig Notaro takes pains to distance the series from C.K., who is credited as an executive producer. "It's frustrating, because he has nothing to do with the show," she says. Notaro says she has  stopped speaking to Louis after an "incident" she refuses to talk about further. The second season of One Mississippi seems to reference the C.K. rumors, in a scene where a male boss starts masturbating in front of his female subordinate during a meeting. (The female character in the scene is played by Notaro's wife, Stephanie Allynne.) After hearing that C.K. has declined to speak about the rumors, Notaro calls on him to address them: "I think it's important to take care of that, to handle that, because it's serious to be assaulted. It's serious to be harassed."
September 11, 2017
C.K. gives an interview to the New York Times after his film I Love You, Daddy — which sees the comedian play a screenwriter whose teenage daughter starts dating a 68-year-old filmmaker, in what seems a clear nod to Woody Allen — premieres at Toronto. As in his conversation with Vulture, the comedian declines to address the allegations head-on. "I'm not going to answer to that stuff, because they're rumors," he says. "If you actually participate in a rumor, you make it bigger and you make it real." He says he doesn't understand why Notaro talked about him to the Daily Beast: "I don't know why she said the things she's said … I don't think talking about that stuff in the press and having conversations over press lanes is a good idea."
September 18, 2017
Speaking with the Village Voice, Kirkman denies that Louis had ever masturbated in front of her. "He has never done that to me," she says. "I never said he did, I never implied that he did." She continued: "What I said was, when you hear rumors about someone, and they ask you to go on the road with them, this is what being a woman in comedy is like — imagine if there's always a chance of rain over your head … so you go, 'Should I leave the house with an umbrella, or not?'" Kirkman says she now thinks there was "nothing there" in regard to the rumors, but would "totally back" any woman who came forward. She also says she was the one who deleted the podcast episode, "not because Louis paid me off, but because it was causing so much attention."
October 18, 2017
In a post at Vice, reporter Megan Koester writes of attending the Montreal Just for Laughs festival in 2015 to investigate the rumors for Gawker. Koester remembers working the red carpet at the festival's awards ceremony, asking male comedians what they thought of the allegations against C.K. She says she was soon shut down by the festival's COO, Bruce Hills, who told her she was disrupting a "friendly" red carpet; Louis C.K., she recalls him saying, was "family" and "a friend of the festival." (In a statement to Vice, Hills says his intent "was to keep our awards ceremony as a celebratory event. In doing so, I was in no way defending nor aware of any allegations towards talent.")
November 9, 2017
The Times publishes its story, in which five separate women come forward to accuse C.K. of proposing to or actually masturbating in front of them in professional settings. Comedy duo Dana Min Goodman and Julia Wolov say the comedian masturbated in front of them in a hotel room at the 2002 U.S. Comedy Arts Festival in Aspen, an account that matches up with the Gawker blind item. Afterward, Goodman and Wolov say that C.K.'s manager Dave Becky told them to stop telling the story of the incident. The following year, comedian Abby Schachner claims C.K. began masturbating and describing his sexual fantasies when she called to invite him to one of her shows. Another performer, Rebecca Corry, says C.K. asked her if he could masturbate in front of her while they worked on a pilot together in 2005. (She says she declined; the pilots producers Courteney Cox and David Arquette both confirmed Corry spoke to them about C.K.'s behavior.) The fifth woman, who has chosen to stay anonymous, says C.K. repeatedly would masturbate in front of her in the offices of The Chris Rock Show, where they both worked.
After one of the incidents, C.K. allegedly attempted to apologize and explain his behavior. In a Facebook message to Schachner, he wrote "Last time I talked to you ended in a sordid fashion. That was a bad time in my life and I'm sorry." (The apology took place in August 2009, three days before FX announced it would make Louie.)
Hours before the story is published, the distributor of I Love You, Daddy cancels the film's New York premiere. C.K.'s scheduled appearance on Stephen Colbert's show is also canceled.
November 10, 2017
In a statement, Louis C.K. confirms that the stories in the Times report are true. "At the time, I said to myself that what I did was okay because I never showed a woman my dick without asking first, which is also true," C.K. says. "But what I learned later in life, too late, is that when you have power over another person, asking them to look at your dick isn't a question, it's a predicament for them. The power I had over these women is that they admired me. And I wielded that power irresponsibly."
In addition to the women he harassed, C.K. also apologizes to the cast and crew of Louie, Baskets, The Cops, One Mississippi, and I Love You, Daddy. The same day, The Orchard says it will no longer distribute I Love You, Daddy. FX announces it is cutting all ties with C.K., and TBS suspends production on The Cops. In addition, C.K.'s publicist Lewis Kay tweets that he is no longer representing the comedian, and the management company 3Arts Entertainment also drops C.K.
*This post originally misstated the name of Jen Kirkman's podcast.