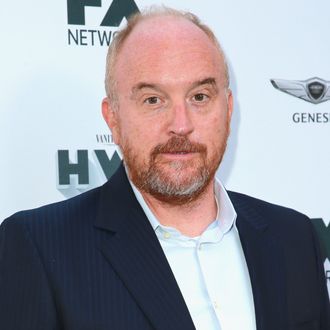 Photo: Rich Fury/Getty Images
As HBO, FX, Netflix, and others distance themselves from Louis C.K. in the wake of the New York Times' report of his sexual misconduct, which he confirmed in a statement, the comedian's publicist Lewis Kay and 3 Arts Management have dropped him as a client. Kay is the CEO of Kovert creative, which represents a collection of top-tier comedic talent that includes Amy Poehler, Jimmy Kimmel, Sarah Silverman, Tracy Morgan, and Will Forte. Kay and C.K. had remained silent in response to the Times' inquiries about the comedian's misconduct, with Kay telling the paper C.K. "is not going to answer any questions" before the story's publication.
"We have terminated our relationship with Louis C.K. We are committed to ensuring a safe and secure environment for our staff, clients and the community at large," 3 Arts Management, which represents clients like Poehler, Aziz Ansari, and Kevin Hart, said in a statement. "We are doing a full internal review regarding this situation and are taking additional steps to strengthen our processes and procedures while engaging with our staff to address any concerns about harassment or abuse of power. This behavior is totally unacceptable in all circumstances and must be confronted and addressed." In his statement earlier today, C.K. apologized for bringing "negative attention" to his manager Dave Becky, a 3 Arts partner, whom he claimed "only tried to mediate a situation that I caused." In the Times' story, women who were sexually harassed by C.K. describe hearing that Becky wanted them to keep quiet about their encounter. Becky denied making any threats toward the women. "I don't recall the exact specifics of the conversation, but I know I never threatened anyone," he told the paper.