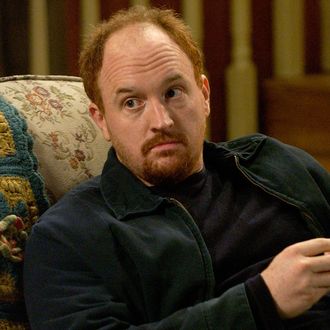 When the New York Times investigation about comedian Louis C.K.'s alleged sexual misconduct was published today, his former partner on Lucky Louie read it right away and felt at a loss for words. Mike Royce, a veteran writer-producer who is now the co-showrunner of Netflix's One Day at a Time, learned how to run TV shows working on HBO's Lucky Louie, which was created by and starred C.K. as the central character.
"We were together a lot, Louis and me," Royce said, speaking of the two years they spent working on the show, beginning in 2005. "We spent tons of time together. He was still a comedian and was touring as well, so he had another life in a certain way that I wasn't a part of. I'm just sort of scratching my head going, 'Was there something I missed?' I can pretty certainly say I wasn't party to it and he obviously didn't confide in me."
On the set of Lucky Louie, Royce says he never observed any questionable behavior on C.K.'s part toward women, and no one ever complained about him. As racy as the show's themes could get, nothing ever stood out as inappropriate, Royce said.
"When we were in the writers room, it wasn't for the faint of heart," he said. "But, to be frank, that happens in every writers room, in terms of a lot of brutal honesty. Within that context, I'm sure a lot of stuff was said. But nothing that made you think this guy's got a problem. And if I'm missing something, I'm happy to be corrected. Whatever compartmentalization he was doing, he was successful."
The C.K. allegations follow weeks of nonstop news in Hollywood exposing several high-profile men on a variety of charges, including sexual harassment, rape, and assault, which began with the Times investigation of Harvey Weinstein. According to the five accusations against C.K., he asked if he could masturbate in front of women, and masturbated in front of them or during phone calls, in several incidents dating back to the 1990s.
"It's an avalanche of stuff that was all hiding in plain sight," Royce said. "It's unfathomable to me and it feels like every day stuff happens where I didn't know that was a thing. And I guess it is. Not to sound like a babe in the woods, but it's still like, 'Really? Wow.' From my perspective, there are so many victims here. You get into show business, to me, 'cause it's a dream come true to be able to write or do something for a TV show or a movie. To somehow turn it into something else for a power reason, why do you need to do that? Working in this business is its own reward. To use it as a fucking power trip, it's fucking the worst. You're perverting what should be an amazing experience, period. And then you're crushing all these other people's spirits and dreams. It's fucking horrible."
Royce says he wholly stands behind the women who came forward against C.K. "How we go forward is important in trying to root this out of all business cultures, Hollywood especially. There's a man problem. I don't know what else to say."