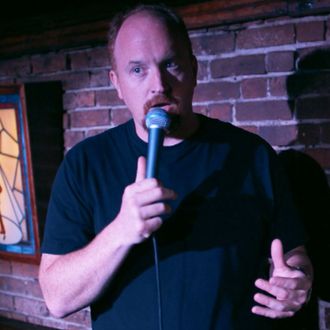 Last night, all three shows were sold out at New York's legendary Comedy Cellar. As per usual, MacDougal Street was packed with a long line of people, who, despite the season's first snap of cold, were waiting on standby in hopes of getting in. But this wasn't a usual Thursday night. Just hours earlier, the New York Times broke a story exposing Louis C.K.'s alleged history of sexual misconduct, and at the Cellar, that comedy club that appears in the opening credits of the FX series Louie, the allegations were fresh on everybody's mind — especially the comedians.
"Were you guys expecting Louis to come up here and show you his dick? In Louis' defense, he's practicing safe sex, so leave him alone," Gregg Rogell, the opener for the early show began, after being introduced to the crowd with his Louie credit.
Following Rogell, Jim Norton, who appeared on Louie several times, dedicated his whole set to the topic of sexual harassment and assault. "I told you to change my introduction tonight. It's 'Worked with Kevin Spacey!'" he told the show's host, William Stephens, who also introduced himself as the bus driver on the first episode of Louie.
"What a weird time in show business. What a crazy, crazy time. You know, it's so funny. I'm a perverted guy, but I'm different," Norton said, before launching into a bit about Spacey's sexual-assault allegations.
Toward the end of his set, Norton looped back around to C.K. "They said Louis jerked off in front of women. You know, it's funny: Those rumors have been around for a long time and I'd never heard a name attached to it," he said. "And I honestly don't know any of the people attached to it, so I don't know if they're credible or not, but again, if five people say it, it's like you've gotta think about it at least."
"It just seems like … I dunno, was he scary when he did it? I don't know what the energy was. I'm not saying it's not scary, but I just can't picture him being nude, being frightened of it. Like, just Chucky jerking off, chasing us," Norton said.
"I've jerked off in front of women, sure," he added later during a bit about Harvey Weinstein. "But never after a rejection. It's never like, 'Can I get your number?' 'No.' 'Sit tight.'"
Other comics were less eager to discuss the allegations. "It is what it is, man. I'm gonna talk about something else then," said Keith Robinson following Norton's set. Some didn't even acknowledge it: Michelle Wolf of The Daily Show, Mo Amer (one of Dave Chappelle's go-to openers), and Tiffany Haddish, who appeared to be polishing her SNL monologue ahead of her hosting duties this weekend, skirted the topic entirely.
Despite the fact that rumors about C.K. had been circling for years, the comedians who performed on Thursday didn't seem relieved to finally discuss his alleged sexual misconduct in public, despite the crowd's enthusiastic reactions to their jokes. Instead, for many of them, discussing the allegations seemed like an annoying, but necessary, obligation.
Judy Gold, who, among many credits, also appeared on Louie, seemed to capture the mood perfectly. "Do you guys mind if I masturbate in front of you? Would that be a problem?" she asked halfway through her set. "I'm just asking! I'm just asking! At least I asked. Like you're not all fucking thinking that. At least I've got it out of the fucking way, assholes."