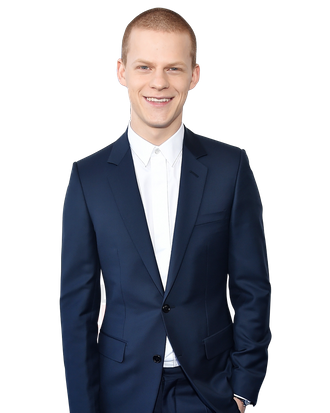 Lady Bird, Greta Gerwig's coming-of-age directorial debut, gives its titular heroine (Saoirse Ronan), two primary love interests, who serve as a sort of guide to the two categories of guys that smart high-school girls tend to date. There's Danny (Lucas Hedges), the too-nice boy you take home to your parents, and Kyle (Timothée Chalamet), the rebellious and aloof guy who reads Howard Zinn and rolls his own cigarettes. When Gerwig approached Hedges with the script for the movie (after seeing his soon-to-be Oscar-nominated performance in Manchester by the Sea at Sundance), he knew he had to play one of these two boys. "I connected to Danny so much," Hedges says. And at least according to him, there's no way he could play a Kyle: "He's way too much of a sex symbol!"
Playing Danny, a big musical-theater nerd, gave the 20-year-old Hedges an excuse to sing Into the Woods, and to have a fully fleshed-out arc with Ronan — whom he says he idolizes, even if he can't quite nail her Irish accent. Vulture caught up with Hedges over the phone to talk about the playlist Greta Gerwig made him for Lady Bird, his role in Three Billboards Outside of Ebbing, Missouri, his upcoming gay-conversion-therapy drama Boy Erased, and why he keeps working with writer-directors.
My first, most important question is about Danny singing "Giants in the Sky" to audition for the school musical. Was that specifically in the script?
Yeah, that was in the script. I'm a burgeoning musical-theater fan. I have a lot of friends in musical theater. This, for a long time, has been my favorite musical-theater song. It's a fantastic song and I loved getting to sing it, even if I'm not a great singer.
Were you a theater kid in high school?
I didn't do theater in high school because I was acting in a lot of films. But I did a theater program the summer of my junior year of high school when I was like, this is it, this is everything. Then I applied to drama schools and went to drama school for college. I became a theater kid when I left high school.
Greta Gerwig says in the press notes that she approached you with the Lady Bird script, told you to choose the role you wanted, and you chose Danny. Why?
Well, the only two roles I could consider would be Danny and Kyle. I don't have enough confidence in myself to play that part, to play Kyle. I was like, if I do this I will make a fool out of myself, because no one's going to believe me. Also, I just connected more to the heart …
Just quickly, they found the perfect person to play Kyle because Timmy [Chalamet], he's just so mysterious and stunning and beautiful. That worked out.
He looks great just reading The People's History of the United States.
Right!? It's so funny — but, god, what was I talking about?
Connecting to Danny.
Yeah, I connected to Danny so much. He's so earnest and loving and passionate and romantic. He dreams of going to Paris and France and being in a far-off land. That was my experience growing up; I always wanted to be from Europe. I got a chance to sing musical theater and have a romantic story line with Saoirse Ronan, who I think is one of the best. She's like the Meryl Streep of her generation.
Even though she's from Ireland, Saoirse is so good at playing a California teen …
In Q&A's after the movie, she's like, [adopts a mock Irish accent] "If you can't tell, I'm not from California." It's like, "Who the fuck are you? Where did you come from? How did you …?" The second she starts talking like Saoirse it's like, oh my god, I now remember that you were in Brooklyn. The same girl who was in Brooklyn and Atonement is playing this Sacramento girl spot-on.
Did Greta coach you all on how to be Californian teens?
Well, she made me a playlist for Danny and gave me movie recommendations and a book of poetry. She gave me all these things that were reminiscent of that time and place in her life. To what extent that manifested in my being able to play a Sacramento kid, I don't know. I think if I put any effort into trying to be like a Sacramento kid, it probably would have come across as weird.
What was on the playlist?
There was a little Rent – 500, what's that song? [starts singing] "Five hundred twenty-five thousand six hundred minutes …"
"Seasons of Love."
"Seasons of Love," yes, which is a song I grew up with. Then, there's a song called "I Think I Need a New Heart" by the Magnetic Fields. Then "Save Me" by Aimee Mann from Magnolia — I'm giving out her secret playlist, but I guess it doesn't need to be a secret.
I just started listening to it again — sorry, I'm finding this playlist right now. [Scrolls through his phone.] Okay, I just found it again. Here we go: Merrily We Roll Along, of course, some Elliott Smith, Supertramp, Sunday in the Park With George, "Watching the Wheels," [by] John Lennon … some really great stuff.
I have to also ask about Danny's outfits, these Catholic-schoolboy, ill-fitting khakis, and also the …
… and also the puka shell necklace! Which I took. I kept the shoes and the puka shell necklace and still have them at home. Greta showed me a lot of photos from her high school and how kids dressed in 2002. When I had my first costume fitting, they showed me all these photos — I was like, okay, this is that. It's very specific to a place and time in history.
You're also in Three Billboards Outside Ebbing, Missouri this year, where you spend a lot of time swearing at your character's mom, played by Frances McDormand, which must be fun.
That was an amazing experience where I did say a lot of words that my dad taught me not to say growing up. I'm really lucky to be in two of the most exciting movies of the year. I mean, I'm not having Timmy Chalamet's year or anything, but I think they're both really important stories and really important for right now.
Greta's movie is a coming-of-age story about a young girl, which is something we never get to see — we usually see them about young men. Three Billboards really challenges the audience and is very daring in the ways in which it talks about American politics and the race relations in America today, the relationships between civilians and the police force — if that made any sense.
Another thing in Three Billboards is that scene where Frances McDormand flicks breakfast cereal at your face. Did she actually do that?
Yeah, she did, we did a bunch of takes of that. No acting required, she just flicks food at your face and you get a little annoyed.
Acting is just reacting, reacting to having food thrown at you. 
I have a feeling you took an acting class at one point in your life — or maybe I'm wrong, just because that's very acting-class terminology.
I've just seen a lot of things. I was a literature major. 
Oh, okay, there you go, there you go.
Have you finished filming the gay-conversion-therapy-camp drama Boy Erased, or are you still filming that? 
We finished that literally three days ago.
What was that experience like?
[Sighs.] Oh man, jeez. I forgot what the world outside of the movie was like. I was tunnel vision, filming every single day for two months. It was the most brutal story I've ever been a part of, and the most heart-wrenching and crushing. But I got to work with some of the best actors out there, period, and learn from them, and have the privilege of telling a story that isn't about me and that has the potential to save lives in terms of how historically significant it is for 2017 and 2018. It's a story about gay-conversion therapy which is legal in, I think, 40 state in America right now. It truly is a story that needs to be told right now, because people are dying, or taking their own lives because of these places.
There's an amazing Vice documentary on gay-conversion therapy. It's so crazy that this stuff still exists. I grew up in New York, in Brooklyn, a very progressive area. That having been said, there was no one in high school that was out — literally not a single kid. There's so much homophobia in every part of the world — NYC is no exception — but I had no idea what it was like in Middle America and parts of Arkansas, for example. You have no idea how bad it is. I pray to have opportunities like that as an actor where, when you go to work, you're not going to work to prove that you're a good actor, you're going to work for the sake of those kids in Arkansas. Or the rest of the world.
On a lighter note, you've had this incredible year, where you had an Oscar nomination, were performing Off Broadway, and now you've got these two movies coming out. Now, are you looking to do more movies, more theater, or do you need to take a break and sleep a lot?
It's interesting, because I thought that after I did the play I would think that I was a good actor, and thought that after a year passed I would feel like I would know what I'm doing. The weird thing is that I can get an Oscar nomination and still feel like the same exact actor who was at a theater program I went to four years ago. The world can change their opinion, but I'm still the same exact thing.
That excites me, and in some respects that terrifies me, because I feel like this responsibility to be a great actor, yet I have so much to learn. I absolutely want to get back to theater, but I'm about to go do a movie in like four weeks that my dad's directing, with me and Julia Roberts. So I'm gonna keep working. If I don't go to work, I feel very lost and scared and confused.
You grew up acting in movies. Was it always something you knew you wanted to do?
It was something I always wanted to do when I was younger, because I liked the idea of being able to see my face on the screen and being able to look myself up on the internet.
I also loved film growing up. My dad's a filmmaker and he showed me all of his favorite films, so I felt at home when I went to a movie theater. It was the thing I was the most romantic about and the thing that also felt the most comfortable for me. I went through a bunch of phases. I wanted to be a journalist. I wanted to be a psychiatrist. I don't think I actually wanted to do anything. This is the only thing I could think of doing right now and the only thing I really want to do.
You have this streak of working with these writer-directors — Kenneth Lonergan, Greta Gerwig, Martin McDonagh — is that something you seek out?
Well, I'm not going to audition for something that doesn't excite me. These scripts are really exciting and fortunately I've gotten the jobs. I do think I have very good taste, that I can say for sure. Hopefully that doesn't sound cocky or anything.
I can imagine it's hard to turn down work, and hard to be specific and say, "I want to do something that I'm passionate about."
I grew up in New York and I have a home in New York, which my parents live in, so I don't have to pay rent right now. I don't have to take jobs for money. Maybe 20 years from now if I have kids and I need to, like, feed somebody, I will do that. But I have the luxury of just getting to do what I love right now.
You have this great young cast in Lady Bird. What's it like to come up among this group of 20-something actors?
One of my favorite things about this movie is having been exposed to these other people. I feel so cool when I do a Q&A with them, because I feel like I have the coolest friends in the world, it's ridiculous. [Laughs]. I really hope that Lady Bird's a movie — and I think it will be — that young girls today will watch for the rest of their lives, one of those movies that everyone has in their early years that they return to. I hope that this is one of them.