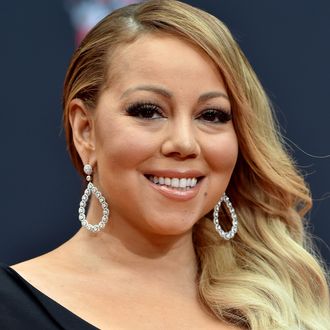 Photo: Axelle/Bauer-Griffin/FilmMagic
Please do not disrespect Mariah Carey for ten months out of the year, then suddenly stan when the weather outside is frightful and Christmas nears. Carey is not the "Queen" "of" "Christmas," the diva has decreed, and she doesn't appreciate your labels. "I don't know who 'they' are," she said when The Hollywood Reporter said "they" seem to call her the holiday's reigning queen. "That is not my appellation." (Indeed: "That is not my appellation" is the "I don't know her" to lead us bravely into 2018.) Later, when THR asked about her childhood — specifically her years as "young Mariah" — she corrected the characterization of her youth:
So now they seem to call you "the Queen of Christmas."

"They." I don't know who "they" are. That is not my appellation.




You're not thrilled with that title.

It's not that I'm not thrilled. I just don't think I deserve it. I'm just a person who likes Christmas, OK? Who happened to write some songs.




Tell me about your childhood and what Christmas meant to you as young Mariah.

What are you trying to insinuate? As "little" Mariah, I think you meant.
Make my wish come true / All I want for Christmas is you … to call me Mimi by my proper appellation.