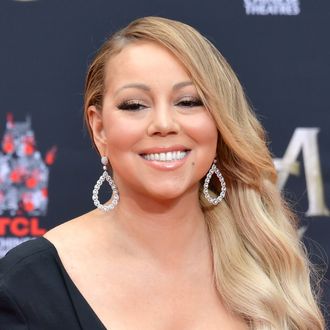 Photo: Neilson Barnard/Getty Images
It's not really the yuletide season until Mariah Carey descends onto New York's Beacon Theatre stage in her glitter-encrusted sleigh and kicks off her All I Want for Christmas tour. So, it looks like Christmas is coming late this year, now that the singer has had to push back her upcoming concert series. "Like most, I'm thankful for my overall health … for which I need a bit more time to get right," Carey explained in a post–Turkey Day Instagram post. "Doctors have ordered a few extra days of rest before I can finally fly to New York and take the stage for my Christmas Tour." Mimi had previously canceled the first few days of the tour due to a lingering upper-respiratory infection, so honestly, be glad we're getting Christmas at all. Ontario is not so lucky.
While her recovery means the tour's previously scheduled November 27, November 29, and December 1 concerts will no longer take place, Carey will be taking over the Beacon on December 2, December 4, and December 5. Carey will then move on to perform dates in Paris, the U.K., and Vegas. Despite rejecting the title of Queen of Christmas (if not you, Mariah, then whom?), Carey has become known for her yearly tour, named for a little-known, oft-forgotten B-side of the same name. This year marks the fourth iteration of the concert series, and the 8,000,000th time you've heard Carey's modern Christmas classic without getting sick of it.