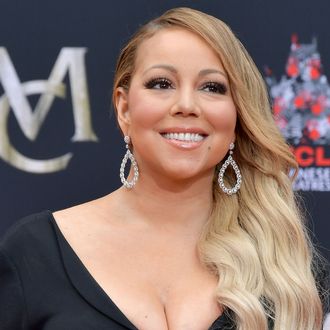 We need this reunion.
Photo: Neilson Barnard/Getty Images
She wanna sign with Jay. The Post reports that Mariah Carey hopes to be under new management by Jay-Z's Roc Nation in an effort to get her career back on track. She recently fired her manager of three years, Stella Bulochniko, who lured Mariah into reality TV and other non-music endeavors, and is said to be going in a different direction. "[Mariah's] cleaning house. She is getting legitimate people, assistants, a lawyer, and Stella is not happy about it," a source tells the Post. Earlier this year, Mariah re-upped her deal with Epic, the label L.A. Reid brought her back home to in 2015, years before his controversial exit from Sony. A new album was promised under the new terms of that extension, but it has yet to materialize. Meanwhile, Mariah has bided her time by giving legendary interviews.
But Mariah and Jay-Z, of course, go way back: Who could forget "Heartbreaker" or its all-time-great video which introduced Mariah's villain alter ego, Brunette Mariah! And the fight scene to end all fight scenes! And, uh, Jerry O'Connell! Remember that guy? Mimi and Hov have collaborated a couple times since, but never so memorably. All we want for Christmas is a Mariah-Jay reunion to mend our nostalgic hearts.