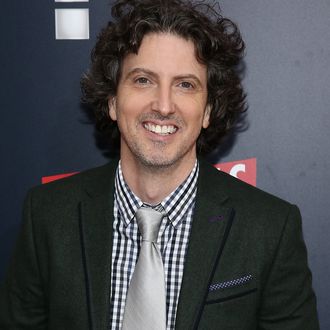 Mark Schwahn.
Photo: Neilson Barnard/Getty Images
Amid multiple sexual-harassment accusations, Lionsgate Television has suspended Mark Schwahn, the executive producer, creator, and showrunner of E! series The Royals, according to Deadline. The action comes after Audrey Wauchope, a television writer from Schwahn's former series One Tree Hill, recently wrote on Twitter about her experience with sexual misconduct without actually naming Schwahn. Soon after, though, more than a dozen women who worked on the prime-time teen soap — including stars Sophia Bush, Hilarie Burton, and Bethany Joy Lenz — joined Wauchope in accusing Schwahn of misconduct in an open letter. The letter claimed that Schwahn's behavior on set was an "open secret" and alleged that, "Many of us were, to varying degrees, manipulated psychologically and emotionally." The women added, "Many of us were spoken to in ways that ran the spectrum from deeply upsetting, to traumatizing, to downright illegal. And a few of us were put in positions where we felt physically unsafe."
The companies involved in the production of The Royals issued a joint statement: "E!, Universal Cable Productions and Lionsgate Television take sexual harassment allegations very seriously, investigate them thoroughly and independently, and take appropriate action. Lionsgate has suspended Mark Schwahn from The Royals as we continue our investigation."
Update, November 16, 3:07 p.m.: Following Schwahn's suspension, 25 female crew members and actresses on The Royals issued a joint statement on his behavior this Thursday. "It became all too apparent reading [the One Tree Hill cast and crew's] statement earlier this week that the betrayal and anger so many of us had experienced during our time on The Royals is not exclusively ours," the statement reads. "And we were angry then, and we are angry now." The statement claims Schwahn engaged in "repeated unwanted sexual harassment of multiple female members of the cast and crew" and noted, "Where we should all collectively have felt pride over jobs hard won and roles much loved, we felt undermined as artists and creatives. And in many cases, no more than a sum of body attributes."
Update, November 16, 4:45 pm EST: Royals star Elizabeth Hurley, who plays Queen Helena, has issued her own statement regarding the allegations made against Schwahn.