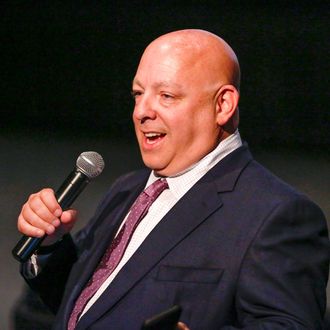 Brian Michael Bendis
Photo: Rich Polk/Getty Images for Sony Pictures Television
Writer Brian Michael Bendis has been Marvel Comics' golden boy for nearly 20 years. He cut his teeth writing a run on Ultimate Spider-Man that redefined Peter Parker for the new millennium and introduced fan-favorite replacement Spidey (and future movie star) Miles Morales. He reinvented and expanded the Avengers lineup. He co-created Jessica Jones. He's been the scribe behind many of Marvel's "event" mini-series, such as House of M, Age of Ultron, and Civil War II. He was part of an elite brain trust that advised on Marvel's movie output. He's penned tales of Daredevil, the Guardians of the Galaxy, the X-Men, Iron Man, and a bevy of other characters. And now, in what amounts to the most momentous hiring decision in recent comics history, he's moving to Marvel's eternal rival, DC Entertainment, to exclusively write for them. DC made the shocking announcement via Twitter this morning:
For laypeople, this may mean nothing, but within the world of the funnybooks, this is a move that can only be compared to writer-artist Jack Kirby's famed switch from Marvel to DC in 1970. DC gave no further details, but one can only assume Bendis will be put on a high-profile project. Or five, or ten — he's famously prolific. He has a previous DC credit, a story in a Batman anthology from 2000, but is in no way known as a DC writer. There's been no reason to believe that Bendis has been unhappy at Marvel, as he's persistently one of the company's biggest cheerleaders on his Twitter and Tumblr accounts. That said, he's always been comprehensive with his praise, often tossing acclaim and admiration to DC creators and projects in those same online spaces. This will be a huge loss for Marvel, which currently has him writing multiple titles: Spider-Man, Jessica Jones, Defenders, and Invincible Iron Man.* When contacted by Vulture, Marvel declined to comment on specifics about Bendis's exit, but gave the following statement: "Brian is a great partner and has contributed incredible stories and characters to the Marvel Universe over the years. We appreciate his creativity and professionalism, and we wish him the best on his future projects."
*This post has been updated to reflect how many Marvel titles Bendis is currently writing.