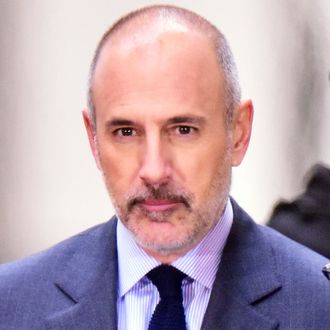 Lauer.
Photo: James Devaney/GC Images
Following Matt Lauer's abrupt termination at NBC on Wednesday morning over a complaint from a colleague over "inappropriate sexual behavior in the workplace," Variety has now published the findings of its own investigation. Multiple anonymous women have described a long history of sexual harassment by the former Today show anchor, detailing numerous incidents of his misbehavior under the network's watch. One woman says Lauer allegedly gifted her a sex toy with an explicit note telling her how he wanted to use it on her; another accuser says he allegedly exposed his penis to her in his office, then "reprimanded" her for declining to engage in a sexual act. Other colleagues say that Lauer allegedly quizzed female producers about their sex lives and played a game where he'd reveal which female co-hosts he wanted to sleep with. Sources tell Variety that Lauer was known to comment on his female co-worker's appearances, would make "lewd comments" either in person or over text, and allegedly used his power at NBC to engage in consensual relationships with employees. They claim his behavior was an open secret and that at least one of his co-anchors would share these stories with the rest of the staff.
According to the report, he kept his office in a "secluded space" where his desk had a button to lock the door under it so "he could initiate inappropriate contact while knowing nobody could walk in on him." Sources say Lauer acted inappropriately while on assignment, and would invite female NBC employees to his hotel room at multiple Olympics over the years. The woman whose accusation led to Lauer's firing reportedly told NBC that he sexually assaulted her at the 2014 Sochi Olympics.
Though NBC's note to employees regarding Lauer's termination claimed this was the first complaint made against him, Variety reports that multiple women complained to NBC execs about his misconduct, "which fell on deaf ears given the lucrative advertising surrounding Today." A former reporter told Variety, "Management sucks there. They protected the shit out of Matt Lauer." According to the report, Lauer was being paid $25 million per year, though it's unclear if he'll be paid through the end of his contract in 2018. NBC and Lauer did not comment to Variety.