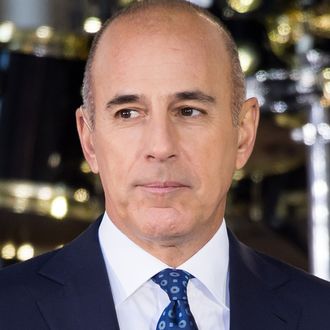 Matt Lauer.
Photo: Noam Galai/WireImage
It was announced on the Today show this morning that Matt Lauer, co-host of the popular morning talk show since 1994, has been fired from NBC due to "inappropriate sexual behavior in the workplace." Savannah Guthrie, who has co-hosted the show with Lauer for many years, read the memo that was sent from NBC News chairman Andy Lack to the network's employees. The memo detailed the extent of Lauer's behavior, which "represented after serious review a clear violation of the company's standards." Although Lack's memo says it was the first complaint about Lauer's behavior in the 20+ years he's been at NBC News, Lack has "reason to believe this may not have been an isolated incident."
"As I'm sure you can imagine, we are devastated and we're still processing all of this," Guthrie said, after reading the memo. The staff learned the news just before the show went live. "For the moment, all we can say is that we are heartbroken."
CNN reports that the New York Times had been investigating this story for several weeks. Lauer is the second morning-news host to be fired from his network for such claims, after Charlie Rose was dismissed from CBS following a report in the Washington Post detailing allegations of sexual harassment and assault.
You can read Lack's full memo below.
Dear Colleagues,

On Monday night, we received a detailed complaint from a colleague about inappropriate sexual behavior in the workplace by Matt Lauer. It represented, after serious review, a clear violation of our company's standards. As a result, we've decided to terminate his employment. While it is the first complaint about his behavior in the over twenty years he's been at NBC News, we were also presented with reason to believe this may not have been an isolated incident.

Our highest priority is to create a workplace environment where everyone feels safe and protected, and to ensure that any actions that run counter to our core values are met with consequences, no matter who the offender.

We are deeply saddened by this turn of events. But we will face it together as a news organization – and do it in as transparent a manner as we can. To that end, Noah and I will be meeting with as many of you as possible throughout the day today to answer your questions.

Andy
Update, 11:30 am: In a statement to the New York Times, Ari Wilkenfeld, the civil rights lawyer who represents Lauer's accuser, has said:
My client and I met with representatives from NBC's Human Resources and Legal Departments at 6 p.m. on Monday for an interview that lasted several hours. Our impression at this point is that NBC acted quickly, as all companies should, when confronted with credible allegations of sexual misconduct in the workplace. While I am encouraged by NBC's response to date, I am in awe of the courage my client showed to be the first to raise a complaint and to do so without making any demands other than the company do the right thing.
The Times also says that they met with Lauer's accuser on Monday afternoon, but that "she said she was not ready to come forward and tell her story publicly."