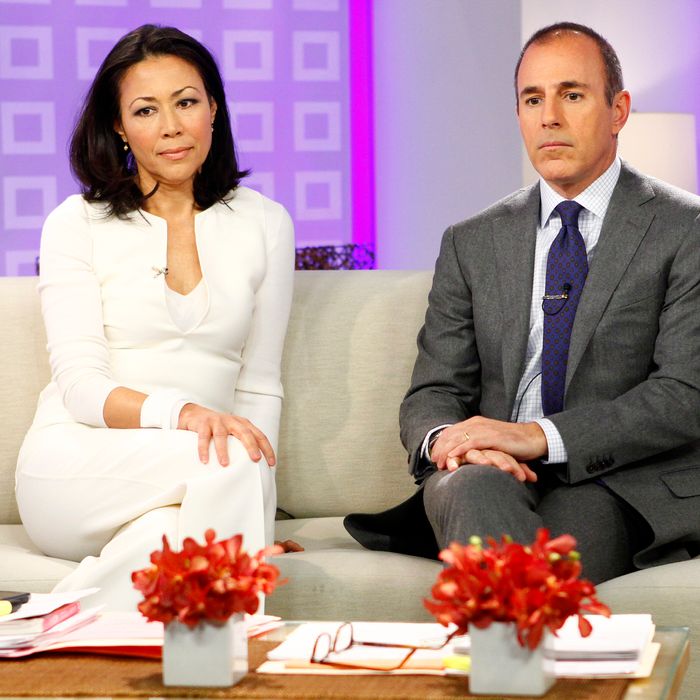 Photo: Peter Kramer/NBC NewsWire via Getty Images
With the news this morning that NBC fired Today co-host Matt Lauer due to "inappropriate sexual behavior in the workplace," it's natural to reconsider Lauer's long career with the network. Specifically, how Lauer's firing colors the story of his infamous rivalry with Ann Curry, who joined Today in June 2011 before being forced out a year later. At the time, many blamed Lauer for the way Curry was treated, and though he may not have been fully responsible, he definitely played a crucial part in her exit. For those who are unfamiliar with or may want a reminder of how the events played out, here is a brief timeline of the Lauer-Curry drama.
April 2006: Former co-host Katie Couric leaves the Today show to join CBS Evening News. She is replaced by Meredith Vieira.
May 2011: Vieira leaves Today to spend time with her ailing husband. There are rumors that Couric might return to the show, but NBC balks over the money. Ann Curry, known for her reporting on disasters such as the Darfur crisis, the 2004 tsunami in Southeast Asia, and the 2010 earthquake in Haiti, is next in line for the job: Her contract stipulates that if NBC passes her over as co-host, she can jump to another network.
June 2011: Curry officially starts as the co-host of Today.
December 2011: Within the first six months, executive producer Jim Bell decides that things aren't working out with Curry. Good Morning America is nipping at Today's heels, Curry and Lauer have no onscreen rapport, and Lauer "openly complained" to Bell and NBC staffers about her role.
January 2012: Rumors begin to circulate that NBC wants to replace Curry with then–White House correspondent Savannah Guthrie. Bell reportedly hatched what was known as "Operation Bambi" (a term Bell denies using) to force Curry out. Curry, meanwhile, "felt that the boys' club atmosphere behind the scenes at Today undermined her from the start, and she told friends that her final months were a form of professional torture," according to the New York Times. Bell and other staff members reportedly made fun of Curry's outfit choices and on-air awkwardness.
Today continues to slip in the ratings against Good Morning America, threatening the show's winning streak that dates back to 1995. According to New York's cover story on the debacle, viewers especially did not like Lauer's demeanor next to Curry. ("He was looking aloof, a little bit holier-than-thou, and pompous," a former NBC executive said.)
February 2012: With Lauer's future at the network unclear, NBC News president Steve Capus reportedly informs him that Curry would be removed from Today whether he renewed his contract or not.
March 2012: Lauer briefly considers an offer from ABC to rejoin Couric on a daytime talk show, but then reneges, renegotiating his contract with NBC for a reported $25 million a year — the largest deal for a morning-news anchor in TV history. After Lauer inks his new contract, Curry's fate is pretty much sealed.
April 6, 2012: Lauer's new contract is announced.
April 19, 2012: Good Morning America beats Today in the ratings for the first time in 16 years. A week later, Bell tries to sell Curry on a new role as a roving correspondent.
June 20, 2012: New York Times reporter Brian Stelter reports that NBC wants to replace Curry on Today.
June 28, 2012: Curry reveals on live TV that she's leaving Today. In the clip, Curry breaks into tears while Lauer looks increasingly uncomfortable — in other words, for anyone on Curry's side, like the villain. Guthrie is announced as the new co-host the next day.
Summer 2012: In the wake of Curry's departure from Today, NBC loses more than a fifth of its audience as GMA dominates the ratings. Guthrie begins her new co-host role in early July, just in time for London Olympics, while Lauer's reputation plunges. Curry subtweets about the scandal from afar, and Al Roker infamously jokes that "our tradition is to throw one of us under the bus!"
January 2015: Curry leaves NBC to form her own independent production company.
Now: Over the next five years, NBC keeps retooling Today to be brighter, lighter, and eventually to involve Megyn Kelly. With the news of Matt Lauer's firing, perhaps Ann Curry is smiling somewhere — unless she's just furious it didn't come sooner.