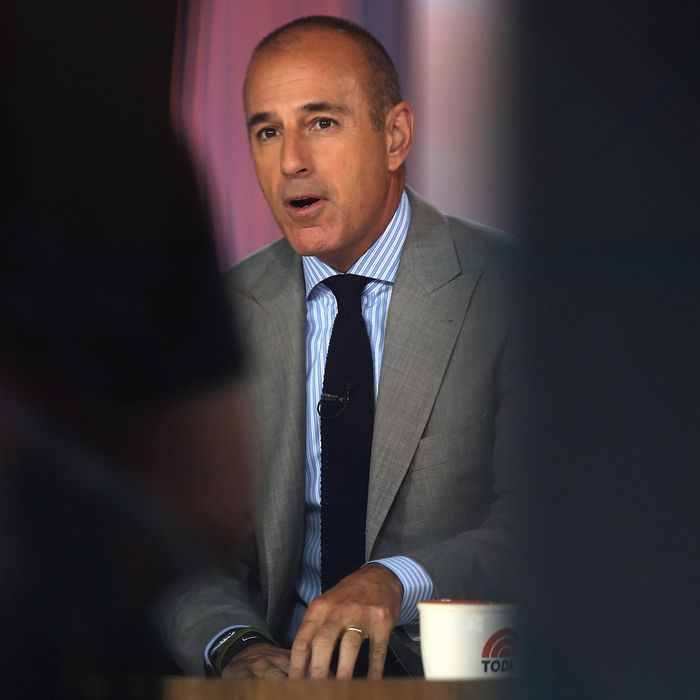 Photo: Al Pereira/Getty Images
Matt Lauer's reign at the Today show — and, more broadly, NBC News — has screeched to an end. Amid sexual-assault allegations investigated by NBC News, the longtime Today anchor was fired Wednesday morning. "We received a detailed complaint from a colleague about inappropriate sexual behavior in the workplace by Matt Lauer. It represented, after serious review, a clear violation of our company's standards," NBC News chief Andy Lack said in a memo to employees. "As a result, we've decided to terminate his employment. While it is the first complaint about his behavior in the over twenty years he's been at NBC News, we were also presented with reason to believe this may not have been an isolated incident."
Lauer was Today's Tywin Lannister. "It's like Game of Thrones over there [at Today]," a source once told Vanity Fair's Sarah Ellison. "You just don't see anything coming until your head is chopped off." He sparred with Tom Cruise in a memorable interview, regularly jetted around the globe for the annual "Where in the World Is Matt Lauer" segment, and was implicated in Ann Curry's dramatic and controversial reassignment. Every NBC exposé, from ones about Curry's removal to Brian Williams's scandal, point to Lauer as being at the tippy-top of the network's star market, as a key stakeholder in who was hired and fired. Here are the most notorious stories about the ex–Today anchor.
He pinches Katie Couric on the ass a lot, according to Katie Couric
"What is Matt's most annoying habit," Andy Cohen asked Katie Couric during a "Plead the Fifth" segment on Watch What Happens Live. After co-hosting Today with Lauer for 15 years, Couric demurred that he "pinches me on the ass a lot."
Ann Curry's send-off
On June 28, 2012, Ann Curry announced her departure from Today. "I will still be a part of the Today show family," she said, through stifled sobs, "but I'm going to have a new title and a new role." Lauer said Curry had the "biggest heart in the business," before moving to give her a kiss on the cheek, Godfather II–style. Curry … swerved:
Later, Lauer told New York that tensions were running high: "I think we all knew it at that moment. And it just seemed like something — there was nothing we could do as it was happening, and we all felt bad about it."
Operation Bambi
New York's 2013 Today exposé revealed the extent of Ann Curry's ouster, which a producer at the time called "Operation Bambi." Lauer never thought she'd be suited for the co-hosting gig, but her contract stipulated that if she was passed over again for the job (as she'd been when they hired Meredith Vieira following Katie Couric's exit to CBS), she was able to decamp. Lauer and Curry's chemistry always felt forced, and they reportedly rarely spoke off air. Research collected by Smith­Geiger shared internally found that it was Lauer who tested poorly to viewers during his segments with Curry, not Curry herself: "He was looking aloof, a little bit holier-than-thou, and pompous," a former NBC executive who viewed the reports told New York. "He was becoming Bryant Gumbel." (Gumbel, Lauer's close friend and frequent golf partner, left Today with a similar reputation.)
At best, Lauer allowed Curry's firing. At worst, he orchestrated it: Her exit came in tandem with him re-upping his lucrative contract. Behind the scenes, two NBC News executives were jockeying for power. Amid all this, Lauer was in conversations with ABC about doing a morning talk show with Couric, which he pulled out of at the last minute. Says New York:
From top to bottom, Burke, Lauer, Capus, and Bell had all agreed that Curry would be taken off the show, with Today rebuilt around Lauer. At the moment when he had maximum leverage with NBC, Lauer, as the multimillion-dollar megastar, could easily have saved her—but he didn't. To the contrary, in signing a new contract to remain at the show for at least two more years, he tacitly ratified the plan to remove her. Which doesn't make him a horrible person—it makes him, for better or worse, a pro.
Curry described her final months at Today as "professional torture."
His Anne Hathaway interview
During the New York premiere of Les Misérables, paparazzi snapped a gross upskirt photo of Anne Hathaway going commando. When she appeared on Today to promote the film, Matt Lauer led the interview with that bit of non-news. "Anne Hathaway, good morning. Nice to see you. Seen a lot of you lately."
His wife's divorce filing
Lauer's wife Annette Roque filed for divorce in 2006, but the couple soon made amends. In her filing, however, she cited "cruel and inhumane" treatment by the Today star, according to the Daily News. Roque described Lauer as a control freak who demonstrated "extreme anger and hostility" toward her.
NBC paid for his helicopter rides to the Hamptons
During a 2014 contract negotiation, NBC agreed to foot the bill for Lauer's helicopter rides to see his family, who live in the Hamptons. "NBC News chiefs want to do everything to keep Matt happy," a source told "Page Six." "They believe Today has turned a corner and he is the key to its continuing success. They agreed to pay for his helicopter flights to the Hamptons and back, so he can spend more time with his family." "Page Six" sources were split on how often the flights were, but some estimated as often as three times a week.
That time he (rudely) pulled a Punk'd
From New York in 2013: When Lauer and Today producers tried to "punk" the rest of the cast one morning in 2011 — sending them to a fake magazine photo shoot where the photographer had a meltdown and started firing all his assistants — Curry was infuriated with Lauer and retreated to her dressing room. Roker, her longtime friend, was sent to comfort her.
His Brian Williams feud
Before Brian Williams was booted from Nightly News for distorting his coverage of the Iraq war in 2003, he and Lauer were in an icy battle over NBC's throne. Williams reportedly refused to shoot a Today intro for his blockbuster Edward Snowden interview in 2014. Lauer eventually got the upper hand when the Today anchor scored Williams first interview following his suspension.
He bragged to Sandra Bullock that he'd seen her naked
Lauer and Sandra Bullock have a weird on-camera chemistry that peaked when she made an appearance on Today to promote The Proposal. "The major thing that's changed since I've seen you last: I have seen you naked," he said. He joked that the image is now his screensaver which is just … ick. In 2014, he said Tom Cruise was probably his most awkward interview, but talking to Bullock can make him nervous.
His "disaster" back-to-back Clinton-Trump interviews
Last September, Lauer hosted Today's "Commander-in-Chief Forum," a pair of 30-minute interviews with presidential candidates Hillary Clinton and Donald Trump. One executive, speaking anonymously to CNN called it a "disaster." Critics said Lauer was harder on Clinton than Trump, and let the president-to-be falsely claim that he opposed the war in Iraq when it began.
Rumors of his Natalie Morales affair
For years, rumors have been gestating about an affair with Natalie Morales, who joined Today in 2006 as a national correspondent. Per Brian Stelter's Top of the Morning:
He'd been trailed by paparazzi from the National Enquirer, which had repeatedly printed rumors about his cheating on his wife. (For what it's worth, some executives at NBC told me they believed the rumors, including the one about a relationship with Natalie Morales. But no one believed the malicious claim that the Enquirer said was circulated by competitors about a "love child." A spokeswoman for Lauer and Morales denied the affair and called the allegations reckless and irresponsible. Maybe what's more important is that the executives didn't think Lauer's behavior, real or imagined, had hurt the show.)
His sexual-harassment spoof
In 2012, Lauer and Willie Geist teamed up for a fake workplace-harassment video. In the footage, Lauer recounts Geist slapping his butt for laughs.