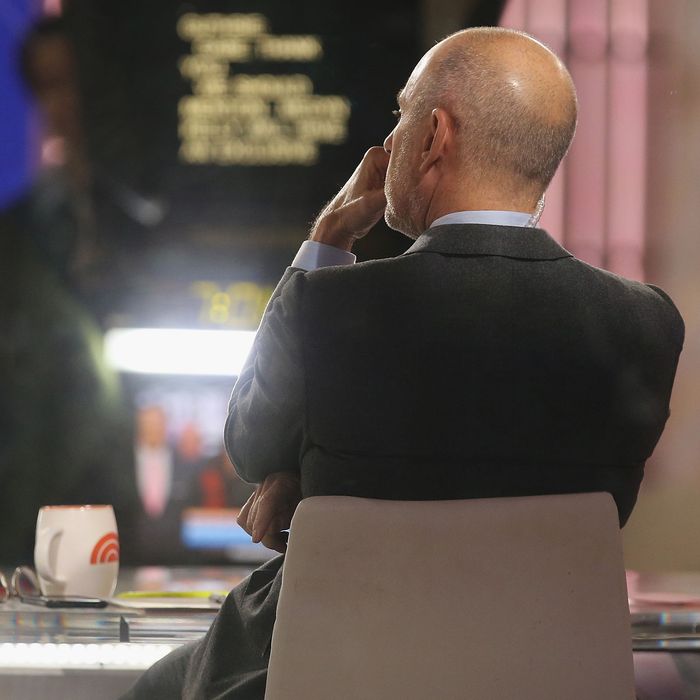 Photo: Al Pereira/WireImage
Matt Lauer's sudden exit from the Today show has left NBC News executives scrambling to find his replacement. There's reason to think it won't be an easy process: Peacock brass have actually been been trying to identify a successor to Lauer for years — and kept striking out. Willie Geist, Ryan Seacrest, Anderson Cooper, David Gregory — all have been rumored to be in the running as Lauer's heir apparent over the past decade, only to see their stars dim for one reason or another. Now, however, the network — like CBS News with ousted morning anchor Charlie Rose — has no choice but to figure out a way forward. It's still early, of course, but here are few potential paths NBC execs could take as they look for someone to pair with Savannah Guthrie.
Tap the alumni network
Not long after news of Lauer's firing was announced, the internet's collective memory kicked in and "Somewhere Ann Curry" began trending on Twitter. (Curry was fired in 2011 as part of a truly bizarre chain of events related to NBC's paranoia about losing Lauer to another network.) Schadenfreude aside, the response points to something else: There's a deep bench of former Today talent that could be called on to replace Lauer, starting with Curry. Assuming she has any desire to forgive NBC News, luring Curry back could be a masterstroke. She knows the job better than most anyone else and already has a fan base among Today viewers. Current NBC News boss Andrew Lack ran the division during Curry's rise at the Peacock but wasn't there during her (forced) fall. Plus, the symbolism of having someone who, per reports at the time, suffered emotional abuse at Lauer's hands coming back to replace him would be powerful. One reason this option might not be pursued: Networks traditionally have tried to include one male anchor as part of their core morning duos or trios. But as we noted last week in discussing CBS's post-Rose scenarios, that tradition seems awfully outdated.
Indeed, Curry's return — or the choice of any female co-anchor to work with Guthrie — would also help atone for Today's long history of treating its female anchors as second-class citizens, or pitting them against each other. Before Lauer-Curry, there was the 1989 Jane Pauley–Deborah Norville disaster, in which the beloved Pauley was subtly pushed out in order to make room for the younger Norville. And this year, Tamron Hall was left with little choice but to leave NBC News after the network decided to bring in Megyn Kelly and cancel the hour of Today that Hall hosted with Al Roker.
Pauley won't be returning to Today — she's now anchoring CBS News's Sunday Morning — but Hall is probably available. Yes, over the summer she signed a deal to develop a talk show and other projects with an independent television company, but that company is the one formerly run by … Harvey Weinstein. It's a safe bet Hall — if she wanted to — could easily extract herself from any contractual obligations should NBC step up with the right offer. (It's a long shot news chief Andrew Lack would go this route, however, since it would require him admitting he mishandled Hall's situation in the first place.)
NBC could also turn to one of two Today alums who left the show on their own terms: Katie Couric and Meredith Vieira. Couric is currently without a permanent home after leaving Yahoo! News this summer, while Vieira's NBC-produced morning show ended last year. Both women would bring decades of hard news experience and a connection to the Today audience. And Vieira is actually still an NBC News employee and a special correspondent for Today.

Promote from within the Today ranks
The network could, of course, try to elevate someone who's part of the current Today "family." Natalie Morales, while currently hosting Access Hollywood for NBC, remains a contributor to Today and has plenty of experience in the anchor chair. Weekend Today's Sheinelle Jones and Craig Melvin aren't particularly well-known, but they've got the needed chops if NBC opts to go low-key. And NBC News international correspondent Stephanie Gosk appears frequently enough on Today that the network lists her on the show's media website. She'd bring some globe-trotting swagger to Studio 1A (see also NBC News chief foreign correspondent Richard Engel.) Then there's Carson Daly, but it seems hard to imagine NBC turning to someone with so little hard news experience for such a key role.
Promote one of NBC's Beltway power players
Guthrie was a White House correspondent for NBC News before her Today career, and the network's D.C. bench is filled with superstars-in-waiting. Kasie Hunt, Hallie Jackson, and Kristen Welker all shined during the 2016 election cycle, and having survived that ordeal, waking up at 4 a.m. to co-host Today might seem like a vacation. All have plenty of experience with live TV, with Hunt currently doing a great job anchoring her own live Sunday show for MSNBC. Another 2016 vet, Katy Tur, is based in New York right now — she anchors a weekday hour on MSNBC — but she'd also be a logical choice for the Lauer chair.
Call on the cable guys
If NBC brass just can't break with tradition and feel the need to replace Lauer with another male anchor, sister networks CNBC and MSNBC offer a couple possibilities. Morning Joe's Geist, former anchor of the third hour of Today and current Sunday host, had been seen as a leading contender to one day replace Lauer — until he was pushed out in 2016, apparently to make room for Billy Bush. (That, um, didn't work out so well.) But it's possible Geist could fall back into favor with NBC News brass now that Lauer is gone.
Meanwhile, Ali Velshi, a longtime CNN vet who's been with MSNBC for just over a year, is a superb interviewer with the sort of easygoing personality that's a decided advantage for morning anchors. (Bonus: He's a Canadian and Muslim, so his appointment would likely prompt a Twitter tirade from the man at 1600 Pennsylvania Avenue.) Then there's recently departed MSNBC anchor, Thomas Roberts, who has experience as a fill-in news anchor for Today and hosting MSNBC's Morning Joe preshow. Like Lauer, he also did a tour of duty as a local news anchor and reporter before his network career, while his time on Entertainment Tonight would be useful for the fluffier elements of morning TV. His quiet exit from MSNBC after the network killed his daytime show may be a sign NBC brass aren't that high on him — or that he simply isn't a fit at MSNBC right now.
Finally, over at CNBC, veteran anchor Carl Quintanilla brings decades of print and television experience, including stints subbing on both Today and NBC Nightly News. While he and colleagues John Harwood and Becky Quick were slammed for their handling of a GOP primary debate in 2015 — Republicans claimed they weren't "fair" with their questions — their interviewing style would now seem heroic to about 65 percent of the country given the results of the election.