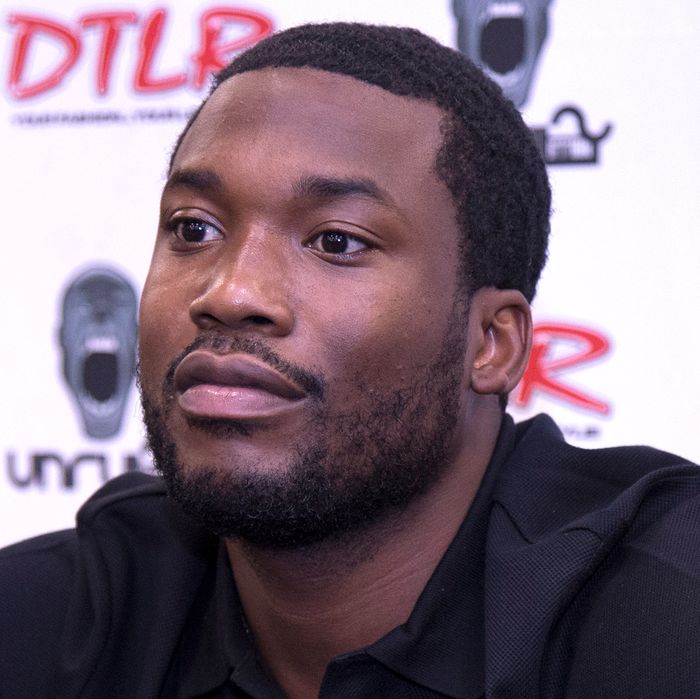 Meek Mill.
Photo: Brian Stukes/Getty Images
After visiting incarcerated hip-hop star Meek Mill at the Chester State Correctional Institution outside of Philadelphia yesterday, Reverend Al Sharpton told Vulture that the rapper is "strong" and "wise."
During a phone interview less than 24 hours after Sharpton, along with Mill's attorney Joe Tacopina, traveled to the prison in a show of support for the Philly-born rap star, Sharpton said, "To give him two to four years for a non-crime is unspeakable."
Earlier this month, Mill was called to court for two parole violations — one, an altercation in an airport, and another in which Mill popped wheelies in Washington Heights — both charges were dismissed. In fact, the DA's office in Philly opted not to pursue any additional charges against Mill, who's been on probation for almost ten years stemming from drug and gun possession charges in 2008. It didn't stop Pennsylvania Common Pleas Court judge Genece Brinkley from giving Mill a sentence that shocked many in both the legal and music communities.
Sharpton said that Mill's case is "an example of the abusive use of probation to unfairly incarcerate people for a long amount of time, far beyond what they're accused of."
After learning more about the case, and seeing the outcry from many in the hip-hop community, Sharpton said, "I felt I wanted to throw support behind him and help deal with this. His case represents a breakdown in the criminal-justice system that we've been talking about for a long time."
Sharpton's criticism of the Philly court comes less than an hour after the Pennsylvania Superior Court denied a 147-page emergency motion for bail submitted by Mill's legal team, according to Philadelphia's KYW radio. His lawyers were hoping that bail would be granted, allowing Mill to exit the prison as soon as today. His lawyers have also repeatedly asked the judge to step down in the case, alleging that she has been "inappropriately personal."
Sharpton says the turn of events in this case is representative of how the criminal-justice system treats people of color. "It doesn't matter your status," he said. "You're still treated differently."
Over the years, Sharpton has been very vocal about other controversial celebrity cases. He visited both James Brown and Michael Jackson after their own legal woes surfaced. He also met Tupac Shakur at the request of his mother shortly before the rapper was murdered in Las Vegas. "I helped negotiate getting him out of solitary," Sharpton said.
Sharpton revealed that Mill told him yesterday that he wanted his own case to bring attention to other young black men who face prison time. "He kept emphasizing to me that his case is more than about him," said Sharpton, explaining that the 30-year-old's been listening to other men tell him "horror stories" about being in the system.
"He did his time," said Sharpton. He said that for the court system to put a young man in jail, a man like Mill who employs people in the community, in 2017 is "unthinkable." He added, "The criminal-justice system is unequal to people of color."