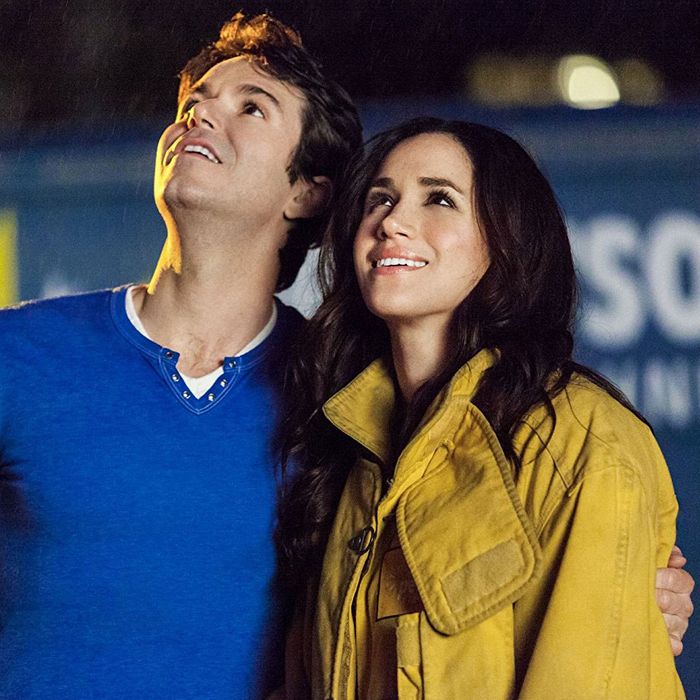 Depending on whom you ask, the Hallmark Channel and its saccharine slate of movies were either sent by God himself or orchestrated as a torture device for Dante's fifth circle of hell. For Meghan Markle — the newest addition of Britain's royal family, thanks to her engagement to noted ginger hunk Prince Harry — it meant employment opportunities! During her tenure on Suits, Markle acted in two quintessentially soapy Hallmark films, both of which featured her as a lovestruck heroine who just doesn't know what her heart wants anymore. (Guy A, Guy B, ugh! Too many options!) "I think Hallmark is such an amazing network to work for," she once said. "It's really heartwarming and affirming and validating. Especially in this day and age, it's so nice for families to be able to all watch programming together. With stories like this, it keeps it really light and easy. And it makes everybody feel good. At the end of a long day, that's what I want to watch!" Let's take a trip down memory lane and revisit Markle's Hallmark movie duo, a.k.a. what you'll be watching this holiday season.
Markle portrays Cassandra, a successful businesswoman who just can't decide who she wants to fall in love with. So, she throws out her standard dating dos and don'ts and lets a popular book dictate all of her decisions. It starts off well, but when she begins falling in love with two very different guys, she doesn't know whom to choose. (Or if the book's checklist is actually a good thing, for that matter.) "You have to follow your heart to find your true love," Markle said while promoting the movie. "At the end of the day, when it comes down to finding the person that you're right for, that's not the person you're going to play games with. I think following her heart has really ended up proving to work out well for Cass, and I think for a lot of women watching this, I would give them that same advice." Ah, if she only knew her future.
Rounding out Hallmark's iconic Fourth of July film slate, Markle portrays a Chicago journalist named Amy who briefly returns to her hometown for a holiday assignment. And in an unsurprising twist, matters of the heart follow: She begins to reignite romantic feelings for her high-school boyfriend who conveniently never left town, while still latching onto her hotshot older boyfriend who frequently leaves her to travel to exotic European destinations for work. (Played by Betty's dad from Riverdale!) We wonder whom she'll choose.