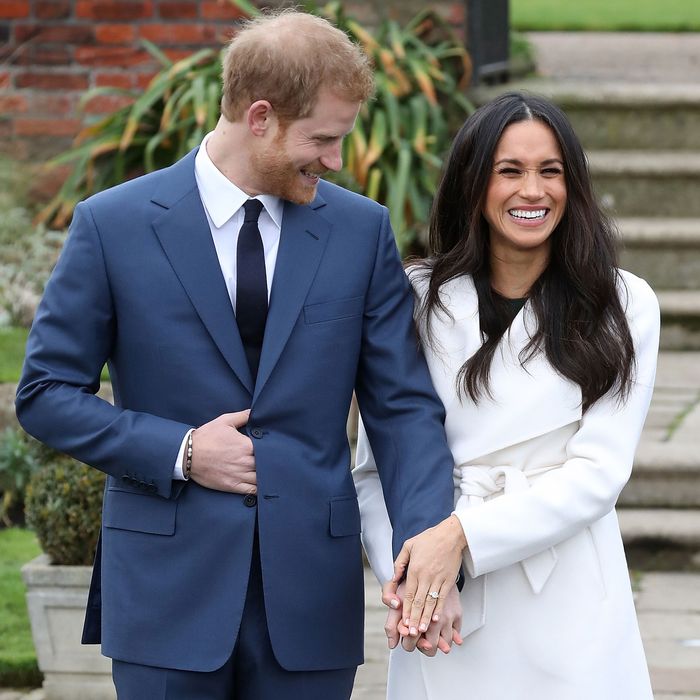 The real Meghan Markle.
Photo: Chris Jackson/Getty Images
Royal watchers have their tea towels in a tizzy this week with the news that Prince Harry is engaged to American actress Meghan Markle. We already know what this news means for Markle's USA series Suits — she's leaving the show, RIP Rachel Zane — but the newest Windsor engagement is also a momentous opportunity for another show: The Crown! The Netflix drama intends to follow Queen Elizabeth II into at least the '90s, and if there's one thing we've learned from Game of Thrones, Star Wars, and the Marvel Cinematic Universe, it's that hot entertainment properties don't end until they absolutely have to. The streaming service is likely to keep this royal gravy train rolling until there's no more reign left to adapt. That means, if we're lucky, not only will we get the glossy version of Wills and Kate that neither Lifetime nor Hallmark could manage, but also, given The Crown's affinity for the romantic adventures of younger royal siblings, that sometime around season eight, we will be treated to an adaptation of Harry and Meghan's blessed union.
Which leads us to the question of the day: Who should play Meghan Markle in The Crown?
For me, there's only one actress who fits the bill. She is an experienced thespian who has appeared in episodes of Deal or No Deal, Fringe, and The League, as well as an uncredited role in Get Him to the Greek. Though she'll be a little older than the 36-year-old Markle by the time season eight rolls around, she knows Meghan's journey inside and out. Plus, she has the advantage of looking just like her. That's right — Meghan Markle should play herself in The Crown.
Think about it. Meghan and Harry have already faced all manner of nonsense from the racist British tabloids, and are sure to face much more to come. What better way to ensure that Meghan is treated fairly in The Crown than for her to take up the role herself? And you can't deny that it would be a plum role: We're talking about the first woman of color to marry into the royal family since Charlotte of Mecklenburg-Strelitz. Why should Meghan let some RADA-educated ingenue try to fake her way through an American accent, when she can do it so much better? It would be the role of her life, because it literally is her life.
As Robert F. Kennedy once said, there are those that look at things the way they are, and ask why; I dream of Meghan Markle playing herself on The Crown, and ask why not?